Womanist is to Feminist as Purple is to Lavender
Amy Sherald, in her exhibition 'Womanist is to Feminist as Purple is to Lavender' at Hauser & Wirth, presents a bold take on the virility of the 21st century Black American girl segueing into womanhood
Mayur B. Hatibaruah
Laid against a pensive monochromatic backdrop, artist Amy Sherald's young and proud subjects 'rest', in a digital exhibition, at the expense of a relaxed, retiring vision, just to arrest the aesthete's space for thought. Womanist is to Feminist as Purple is to Lavender is an online exhibition comprising five new small-scale portraits made by Amy Sherald over the course of the pandemic. Despite the artist's pensive looking subjects, they emanate the force of a thousand waterfalls as they encompass generations of rich yet gravely tragic black history, literature and art – from Walker to Ray Charles and everything that has led to the scarring present. In the piercing eyes of her subjects we see more than just descriptions and abstractions on Black culture, but a higher hope of a sturdier, more just future. But beyond the socio-political connotations, we witness the artist returning to vivid, crisp compositions in Gouache – a medium she last explored as a child.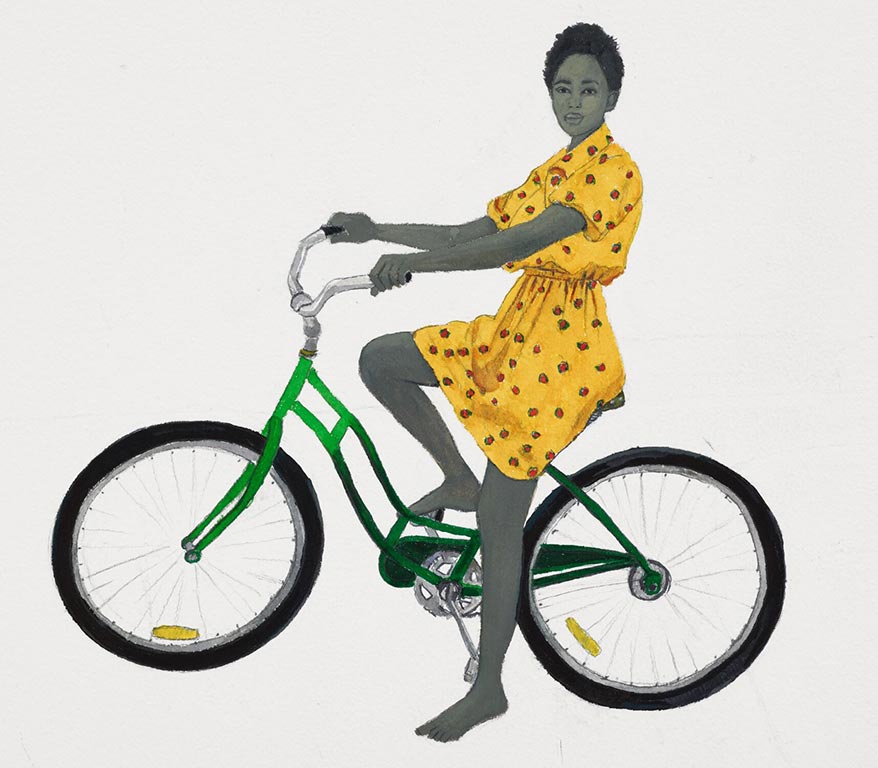 In her signature use of grisaille to depict skin tone, giving her subjects a sculpture-like effect, Sherald brings back elements of her previous exhibits. With singular subjects fixed smack dab in the middle of the canvas, matching our gaze, she implies the glory of a grown woman, in sanctity and strength. The effervescence of the colours around them discuss the irony we are coerced to believe in, like Black Americans still having to shed a tear, break a sweat, kneel and then fight for their own lives, as if centuries of struggle just wasn't enough. But Sherald's woman is someone who knows her worth measured in diamonds and scars. She will fight with grace. She won't just burst into the scene, but would take her time to unfurl, like the yellow blossoms in spring, with mutual vitality.
"I always want the work
to be a resting place,
one where you can let
your guard down among
figures you understand."
– Amy Sherald, on her exhibit, 2020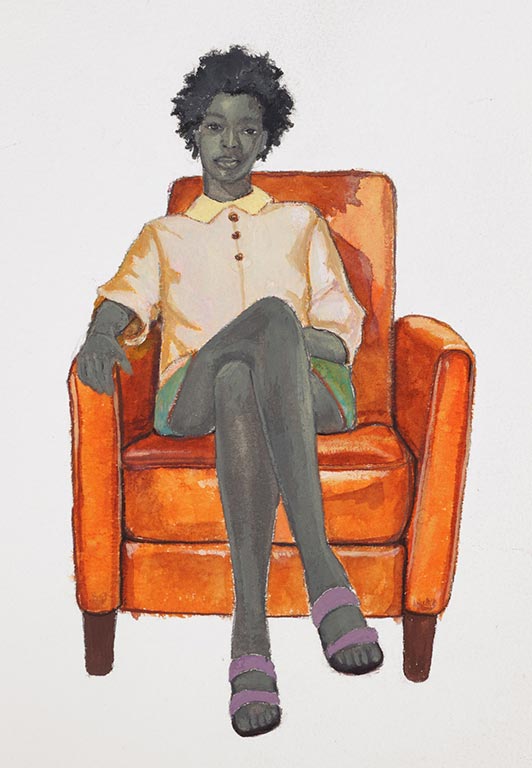 She (both Sherald and her young Black American ladies) is telling a story right there in Hauser & Wirth, a story of liberty and exercise of youth, and of woe poignantly expressed in minimal, and carefully coloured gouache. She also leads the Black Community with the artform of social portraiture, a tradition families, women and children were for so long excluded from; whilst integrating her subjects with the 'grand narrative' of the American experience. In these portraits, there is anonymity in her subjects but there is a lot that feeds into the synonymity of contemporary Black culture – a telling tale on the nebulous nature of their existence, protected and safe. Amy Sherald's timeless subjects, eloquently wrap us in a potent, politically sound quilt of African American history and art, and question how one should perceive Black American life.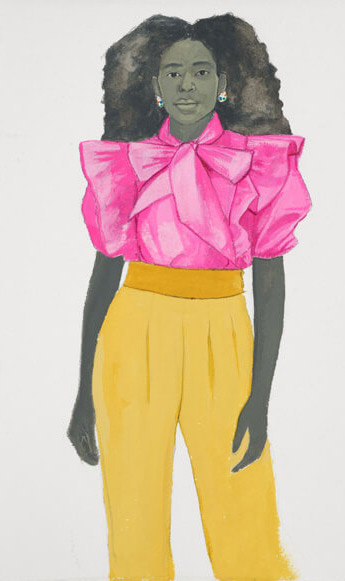 Share