Watcher on the Wall
Italian photographer Leonardo Pucci's first artistic solo exhibition titled 'Episodes (without a real border)' captures stolen moments of intimacy that find its balance – sometimes precarious, sometimes profound – in the minds of its viewers
Aditi Seshadri
One of my favourite spots in non-beachy Goa is Sunaparanta, Goa Centre for the Arts. Perched loftily atop the Altinho Hill, its grand façade and high-profile neighbours belie a serene, leafy interior and cosy exhibition space that regularly hosts varying styles and forms of art exhibits. Looking over Panjim city, offering a peek of the lives of people and places, yet far enough above for anonymity, it is, perhaps, the most fitting home for – Leonardo Pucci's Episodes (without a real order).
Shot in shadows, often at dusk, mostly from a hidden point-of-view, the images are arresting – both for their aesthetics and the subjects. Whether it's a couple kissing in the recesses of a public building, where strong angular lines are broken by the softness of an intimate moment, or an almost Botticelli-esque vision of two men in a swimming pool, their faces hidden from view, Episodes… allows – or even forces – you  to turn into a voyeur. You see these captured moments of intimacy that you know you were never meant to see, but you are unable to look away. 'Years ago I was struck by a performance given by the Italian theatre company, Motus. The show was called "Twin Rooms" and underlined the role of a hotel room, which, although lived in for a brief moment, ends up becoming the fragment of an open story. Since then, the broader idea of an intimate and apparently protected place becoming a possible episode for an emotional narration fascinated me. Gradually, I developed the desire to create a vast and complete photographic project around this concept: capturing fragments of real life that provoke a strong story narration, drawing directly from the mind of the observer,' says Pucci over an e-mail interview.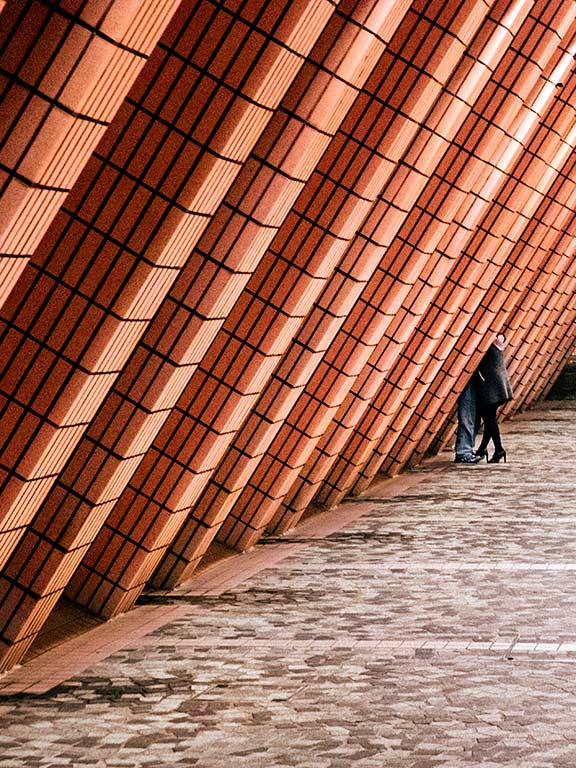 A self-taught photographer, Pucci links his first memories of photography to his father and photos being shot on a Yashica Mat 124G 6 x 6 with meticulous attention to exposure and shot angles. He developed his craft in a similar vein, paying attention to detail in colour, aesthetics, forms of beauty and points of view. Episodes… is his first artistic solo exhibition, a natural progression of his craft, the inspiration he draws from painted works and his unerring eye in finding intimacy. Curated by Siddharth Dhanvant Shanghvi, novelist and head of the Sunaparanta Arts Foundation in Goa, Episodes… offered us (lucky) viewers/voyeurs a glimpse of lives, a sense of emotions, a hint of other realities, just enough to spark our own imaginations but not so much as to define the narratives for us.
Excerpts from the interview
What are the recurring themes or ideas that you work with?
My images are stolen moments of intimacy of individuals or couples. Almost always taken at dusk or at nighttime, they capture, sometimes, in distant windows, the liberty of relaxed and suspended bodies. In the darkness, sensuality is amplified; it's the moment when you get rid of constrictions, and conventions. Your body moves differently than in the day.  I try to capture those fragments of life because those stolen instants become the improvised stages where anyone can recognise his own moment of intimacy.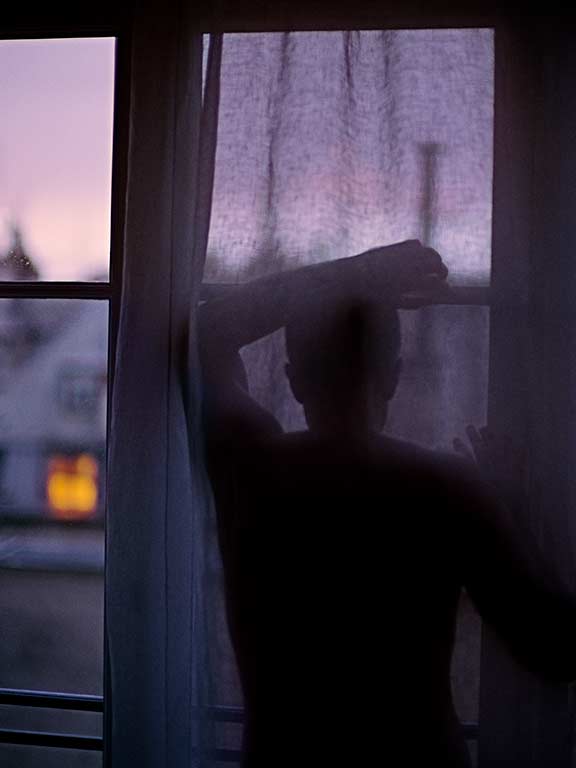 What have been the influences in your journey?
There are two important artists who are always present at the back of my mind – Edward Hopper and David Hockney. The way they compose their paintings, the lines, the planes, the way they isolate key elements, light, colours… their narrative vision, condensed with a dreamlike sensuality. There is, of course, also, literature and its power to give rise to images in your mind. I'm thinking of all those authors (Carver, to name one), who have the immense power to capture an instant of life, to describe the sense of suspension and insecurity, to make you feel the presence of characters whose eye or hair colour is almost never known, but whose deep soul tears are known, the disturbances, the secrets and all those small or large wounds well hidden under the skin.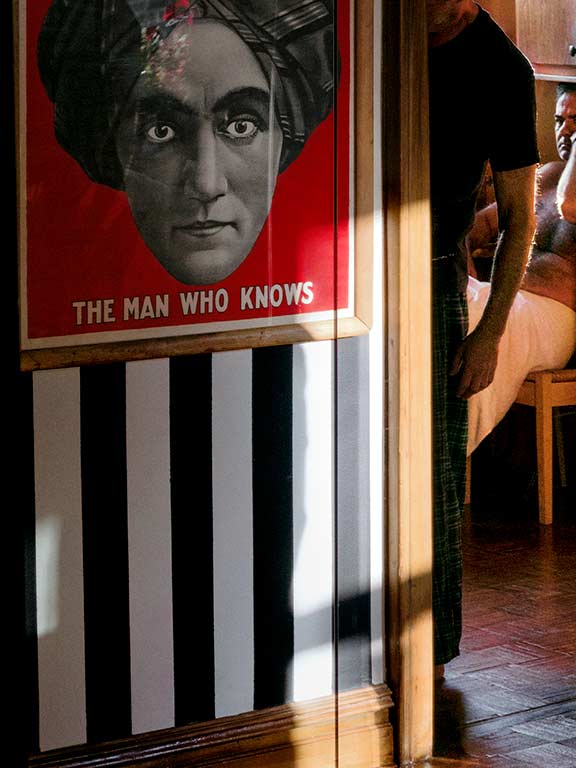 As your first artistic exhibit, how was the process different from or similar to your work in fashion?
For more than 20 years, I have been able to nourish my eye for beauty and conception through my work in fashion at Italian and French 'maisons', such as Bottega Veneta, Prada and Dior, supervising creative and development processes. In these last two decades, fashion has been one of the most important experimental terrains to obsessively redefine aesthetics and communication codes. This allowed me to carry on an intense aesthetic research on images, but above all to develop an attentive and curious point of view, a way of observing the world and reality, constantly searching for a synthesis between the importance of details without losing the beauty of the whole.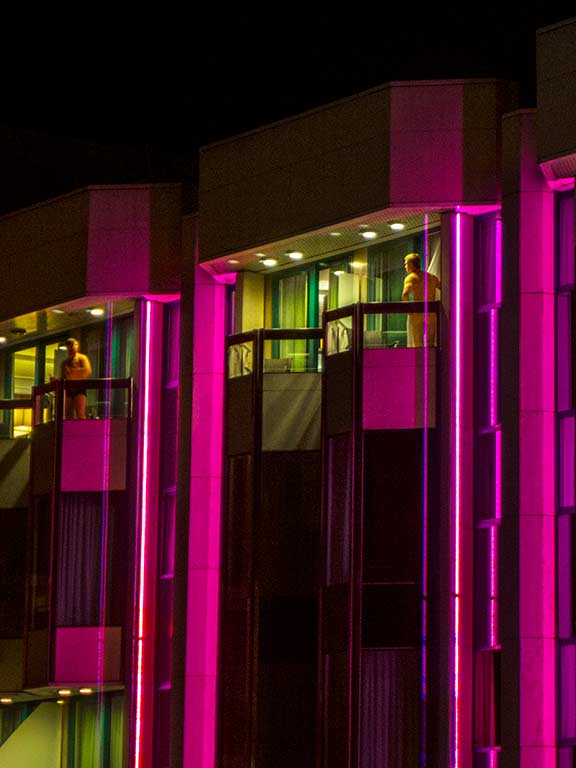 The images in this exhibit have a voyeuristic quality to them; they are people who don't know they're being photographed. Could this be considered an invasion of privacy?
As a photographer, I'm constantly attentive. My eye is always ready to capture an image that suddenly appears in front of me. I have my camera with me, night and day, and when the opportunity arises I focus on my subject with respect and attention, keeping a neutral distance, a certain detachment. I pay a lot of attention to the fact that the subjects are not recognisable. In fact, they do not interest me. They are just a pretext, a means. My photography is mostly based on hidden feelings being revealed and not on specific subjects or on their specific lives. On the other hand, it's true that intimacy is a main topic of our times, if you think how we fight for privacy and at the same time how we unconditionally show all ourselves on social media. In my opinion, we are strangely experiencing a sort of second Victorian age, a period cloaked in respectability and morality, but instead full of scandals, transgressions, contradictions and secrets. So the problem is not so much what is private or not but what is unsaid or censored.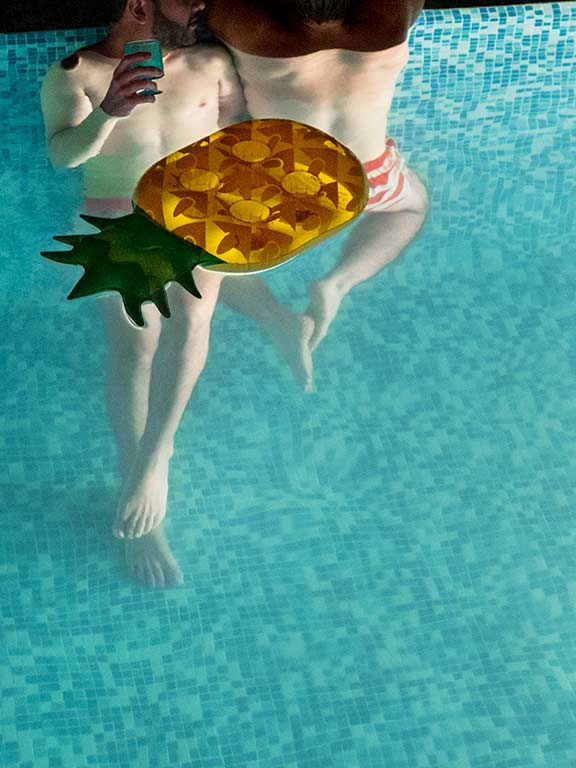 Several of the images have a painting-like effect. How did you contrive that?
'Walking on the razor edge,' between photography and painting-like effect is one of my goals. Like in my favourite paintings, I want my images to express a dreamlike feeling of indefinite fluctuating atmospheres, to embrace the imprecision of fragments of time, to shift the boundaries of objects and reality. And to reach it, I force myself in a ceaseless search for a sensual touch in the composition, in the way the image is cropped, in the proportion between elements, in the voluptuous yet rigorous use of colours and their calibration. Even the choice of the paper I use for printing (100% Cotton Heavy Weight Hahnemühle Fine Art Paper) is meant to enhance this effect.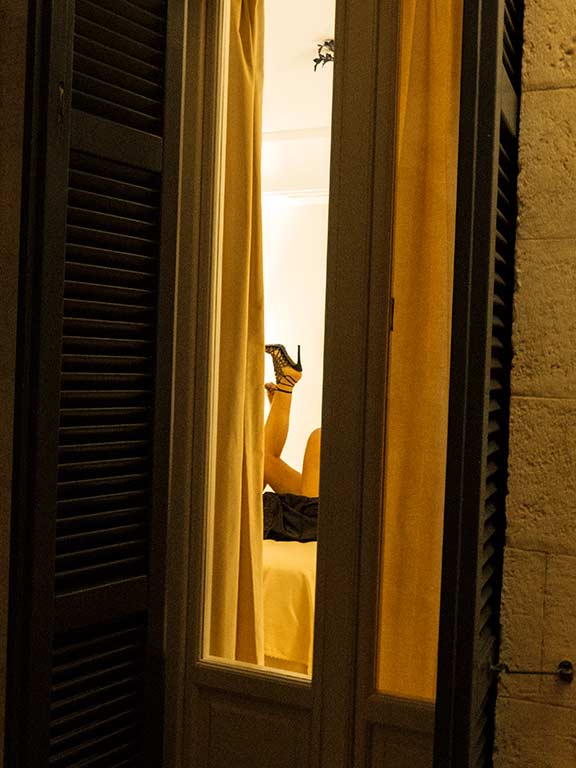 Is there an India connection for you? What has the response been like?
I do not think it's a coincidence that Episodes… has been so well received in India. India is such a refined country that for Indian viewers it is incredibly easy to enter in the pictorial nature of all images with their muddy saturation, with their palpable colours, with their visual stories a condensation of delicate sensuality. And India is a place extremely connected to my personal change. Every time I feel an intense desire of India, a sudden urge to come back to this country, it has always coincided with an event that has an impact on my life. I still remember the words of the Italian author, poet and filmmaker Pier Paolo Pasolini in his book, The Smell of India, that accompanied me during my first trip to Varanasi: 'You can get lost (…) as in a rebus, but with patience you can get to the solution: what's difficult is to grasp the details.' India is so sensual and suggestive, yet contradictory and clashing about spaces of intimacy, that it might be the perfect setting for a new series of Episodes… This is a very intriguing project for the future.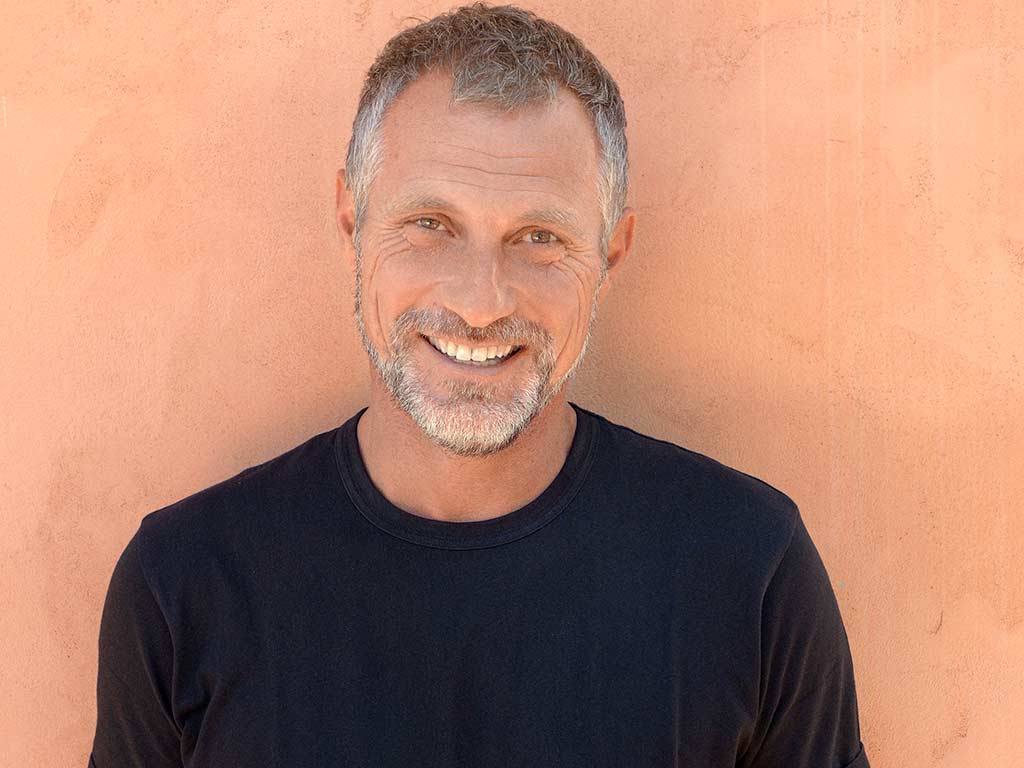 _________________________________________________________________________________
All Images Courtesy of Leonardo Pucci.
Share