The Invisible Bias in Architectural Spaces
"Home is that place which enables and promotes varied and ever-changing perspectives, a place where one discovers new ways of seeing reality, frontiers of difference." – Bell Hooks.
Shabnaprarthana
Sulekha Bhansali
It is a long topic of debate, the understanding of the importance of gender in space and the relationship it has with women; and in architecture especially, it has always been a challenge.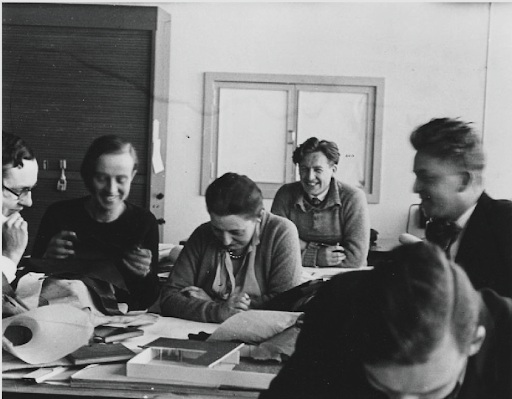 It's a general observation that in most houses the design of spaces tend to support the unhealthy growth of a sharp division of activities between men and women. Men have been the default user of space that orient around his needs of rest and relaxation. Likewise certain spaces have been designed which cater specifically to women. However, it's a concerning thought, how limited, controlled and restricted these women-specific spaces are. This shows a strong yet an invisible difference in how women since the days of yore struggled to find their space – something that belongs, caters, nourishes and soothes them.
In a global and especially the Indian perspective, the patriarchal notion rooted in the society has been limiting the lives of women for many years. As architects in order to understand the causes, we dived deeper and that's when it hit hard that architectural design has played a role in holding down the patriarchy fort, and it shows as clear as day in the domestic and social lives of women. Comprehending the spatial plan, be it residential, workplace or even the urban planning level, all results show lack of concern pertaining to women.  
Historical Throwback
In order to understand the pressing situation, let's take a look back into history. 
During the period of monarchy – between 1600-1850 – when the Mughals, Rajputs and other regional rulers had reigns in India, many architectural marvels were built which we still look up to. For example, one would appreciate the Hawa Mahal in Jaipur for its architectural wizardry and beauty. But how many of us take a closer look into the tales of women who were sealed behind the 953 windows along with their dreams? 
Similarly, in certain tribal settlements, houses were built in clusters of three or four, each limited to a joint family. Despite being a small settlement, comprising 12 – 20, women were always limited to the areas consisting of their household cluster.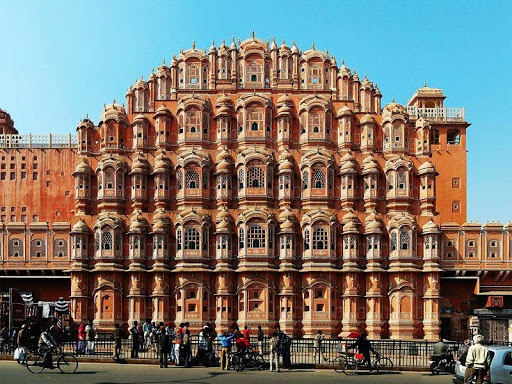 Every year, I (Shabnaprarthana) visit my grandmother at her place that is set in a rural dwelling. Her daughter-in-law, my aunt spends her time at the rear part of the house where the cooking and other household chores are performed whereas my uncle spends most of his time at the front part of the house, at the living area and the veranda, a place where he rests and receives guests. These two parts of the house are clearly demarcated by a wall with a single door opening. This specific arrangement hardly reveals a day's picture in my aunt's life.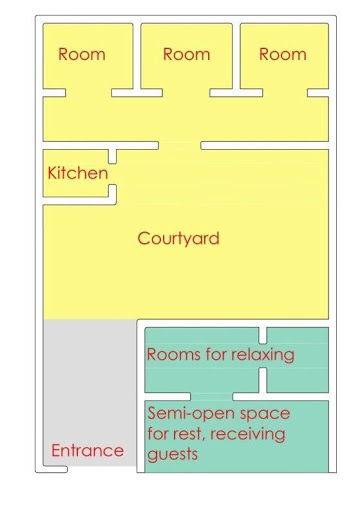 In the Malayalam film, The Great Indian Kitchen, one can observe the lack of visual connection between the spaces foisted on women and the spaces that were occupied by men for their leisure activities in a traditional "tharavadu" house which results in pushing women into isolation.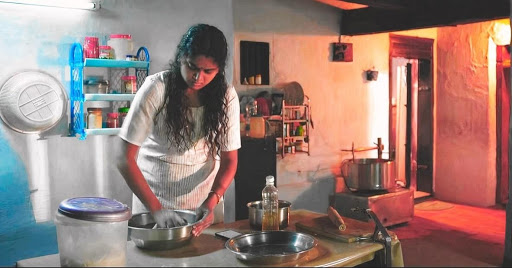 In all the above examples it is noted that these spaces were designed specifically for women. However, beware, these spaces provide just a mere illusion of an all-inclusive design. These spaces were still designed in an extremely limiting fashion and the planning was setting clear boundaries to control movement, social life and relaxation that prevented women from stepping out of the boundaries imposed on them which is still a present-day practice in the seemingly "modern" society. The pattern of spaces in a home, a street, an area and a city narrates the story of the gender dichotomy.
Positive Alternative Approaches
In contrast to the idea, the design for the open apartment was designed by Lilly Reich in which she maintained spatial continuity. The flexible arrangement of the furniture supported the open plan which could be used to unite or divide the space that helped in transforming the space as per one's need.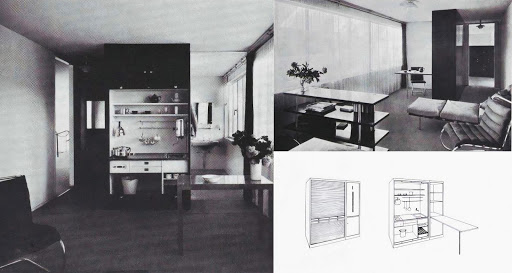 Susana Torre, who paid attention to the needs of her women clients, designed houses with a vision of encouraging interaction between the individual and the shared space, outside and inside the house; blurring the line between opposite spaces of the house; encouraging shared activities between the two genders.
"The challenge is to design for the integration of all family members in the work of nurturing."-Susana Torre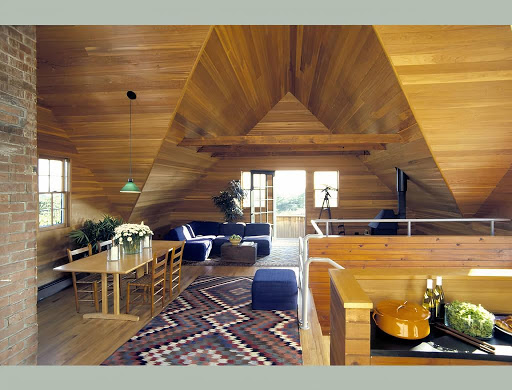 In the book, A room of One's Own, Virginia Woolf demands a separate room for a woman, especially for those whose interests are inclined towards creative thinking. A room for a woman is necessary with furniture placed outwards, facing the large open windows, exposing her to the activities and scenes that occur outdoors, hence feeding her creativity as she is in a space of her own.   
Welcoming Public Space and City Design
Not only the houses, but even public spaces in Urban areas are not women-friendly. Urban spaces should be planned to be more vibrant, supporting access to all genders. Public spaces in India are generally oriented towards men and often felt unsafe for women. The reasons can be due to location, design, illumination or the culture/ standard/ kind of the people, who access and hang-out there, making the spaces their regional ghettos. In our current standing in society, spaces should be designed in a fashion to promote safety and security, thus liberating women to step out. An inclusive design changes the collective psychology of the society we belong to, thus creating an evolution, one day at a time. 
As architects, we should start promoting ideas to design gender-inclusive spaces with more focus and attention to understanding the need of space that would encourage the growth of a woman, as an individual, as a community, and as a progressive society which we strive to move towards.
References 
1 – Gender, Space Architecture – Jane Rendell, Barbara Penner  and Iain Borden
2 – Purdah and Rural Housing in South Asia- Student research, Mc Gill.
3– Susana Torre lecture on Feminism and Architecture organized by The Architectural League and Parsons.
Share