Sashirekha Vijayshankar
Sub-cover artist, Arts Illustrated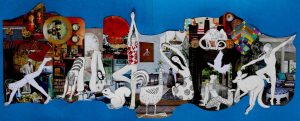 " This work is one of my favourites as it has the girls in yogic poses stretching, as animals, unusually domesticated, go around them as though they are a part of their activity. This could have also been inspired by my pet dog who always shares my yoga mat giving me the feeling that I am not alone when I am exercising."
Why do you do art?
Art is the only thing that gives me the satisfaction of using my time in the most creative way. The pleasure I get by doing art is something I don't experience anywhere else.
Where do you see yourself five years from now?
I see myself travelling with my works within India and abroad.
If you could meet your artistic hero/inspiration, who would that be?
Paul Gaugin, and Edward Klimt
Who or what keeps you company while you work?
Music and my pets and all the flowering plants around me. Actually, my workspace is a colourful space surrounded by flora and fauna, which gives me the inspiration to do works that reflect the colours and life around it.
How would you want to be remembered?
As an artist who created works that brought happiness to the heart of the viewer and was simple to understand.
Sashirekha Vijayshankar completed her BFA and MFA in Painting from College of Fine Arts, Karnataka Chitrakala Parishath, Bengaluru. She has worked as a children's furniture designer, as an art teacher and educator with different institutions and as a design artist. With a wide range of experience in her repertoire, Sashirekha now is an artist who has exhibited extensively across the country. This August, she held a solo show of her drawings and photo collages at Art Houz Gallery, Bengaluru.
Sashirekha's artistic process starts with a premeditated drawing on white surfaces. She then cuts around them and tunes them up to reveal the visual rhythm that lies underneath. Drawn primarily to the female form, or 'girls' as she calls them, Sashirekha essentially rearranges and improvises colourful sets of readymade photos to present a unique worldview that is both one with herself and the viewer.
Share