Laxman Aelay
Sub-cover artist, Arts Illustrated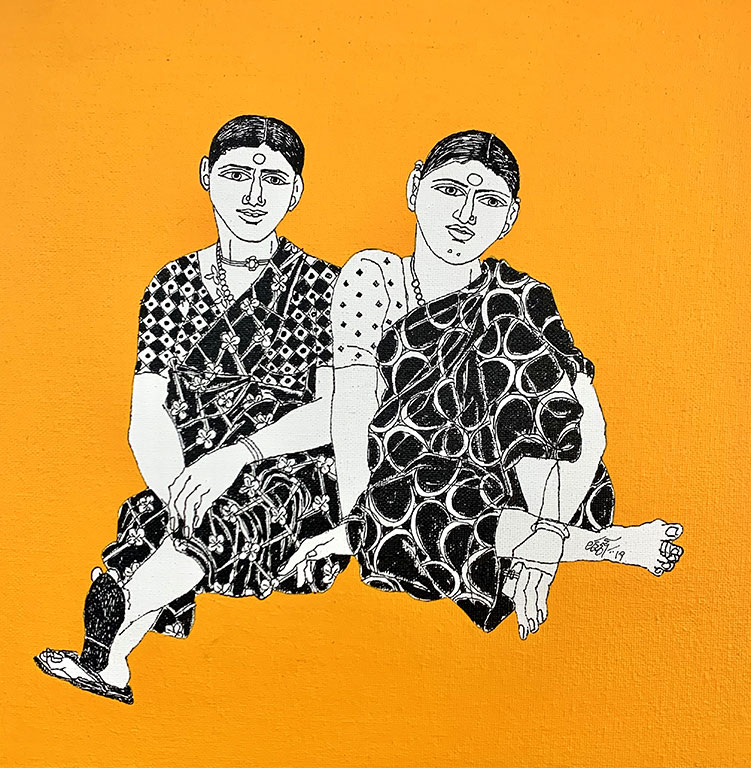 'I prefer to paint people and the environment in my village, sharing beautiful moments with them. I like to depict the happiness one can derive from the small things in life. I try to bring joy to my people through my colours'.
Before Laxman Aelay established himself as a professional artist, he was a signboard artist and then a much-sought-after designer and illustrator of books. His early works are still regarded highly within many Telugu literary circles. Although he already had a Bachelor's degree in commerce, the painter in him urged him to go for a formal education in the arts; and he completed his Master's degree from the Jawaharlal Nehru Architecture and Fine Arts University in Hyderabad. Today, with a PhD from the English and Foreign Languages University, and having worked as an art director in many films, Aelay is credited with several important shows and awards, and for having designed the new Telangana State logo.
Through his vibrant quasi-realistic paintings and arduously drawn imagery, Aelay presents contemporary depictions of rural Telangana. His works evoke a sense of apprehension and nostalgia, while simultaneously proclaiming a very tangible aspect of cultural identity. The larger-than-life-size hyper-realistic images of street performers, itinerant bards and common people are built and rebuilt over multiple layers of motifs drawn from memory, all revealing the predicaments of oppressed communities.
Why do you do art?
Art is something very personal to me. It is not that I 'do' art, it is more that I 'belong with' art and nowhere else. Art is all I know. For me, art reflects cultural values, beliefs and identity. It is a fantastic means to document life and I enjoy doing it.
Where do you see yourself five years from now?
As an artist, I like to experiment with my art work. I am trying out more mediums, not just painting. I am also planning to direct a film – that is still in process. So, at least for the next couple of years I will be busy – hopefully energetic and enjoying it.
 If you could meet your artistic hero/inspiration, who would that be?
I always wanted to meet M. F. Husain again. It is sad that he is no longer among us. I had the privilege to meet him once during my student days, and even take an autograph from him. I treasure it till date.
Who or what keeps you company while you work?
I mostly listen to music while I work. The radio is switched on throughout the time. But apart from all of that, I have a couple of friends who come from literary, journalism or poetry circles. They often come over to my studio and we spend some quality time together.
How would you want to be remembered?
I would definitely want to be remembered as a visual artist who doesn't just paint; but also has an eye for different art mediums and expressions.
Share