Akhil Chandra Das
Sub-cover artist, Arts Illustrated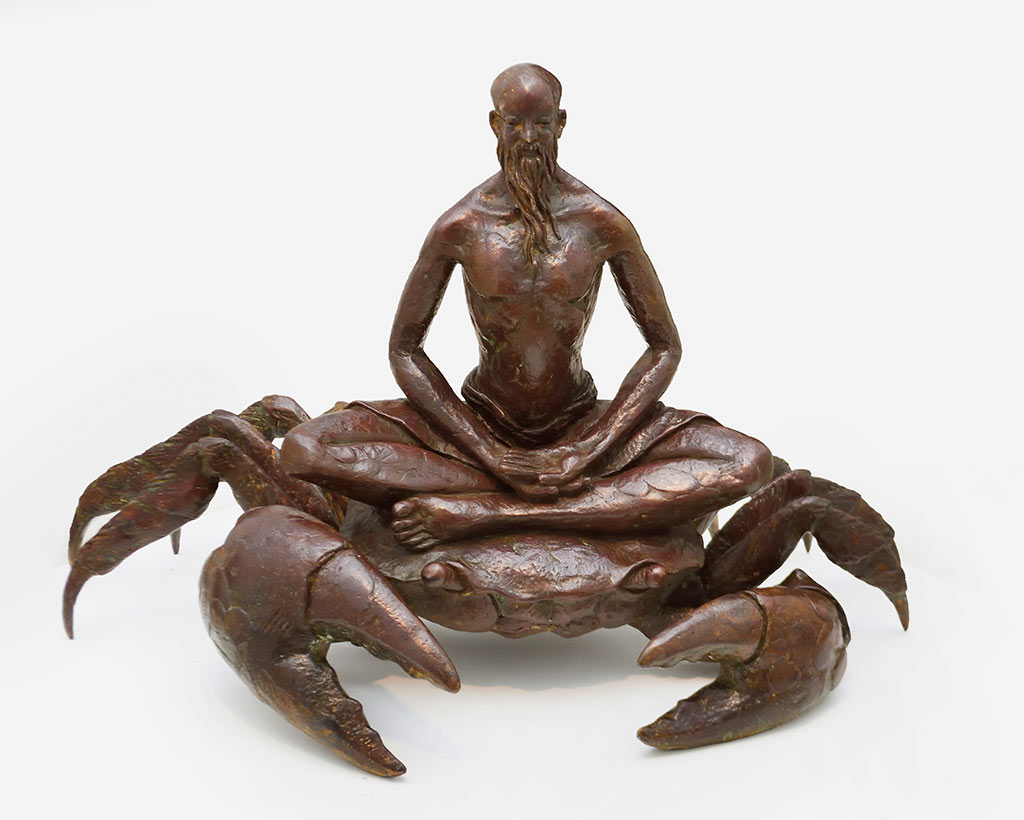 'This work reflects upon a peculiar human tendency. The man strives to transcend the mortal domain towards the expression of the spirit. Yet, the complex layers of necessities and desires pull him back again. The man sitting in meditation on a huge crab is in itself a contemplation of two contrasting visuals. The crab represents a grotesque crude form of desire that entangles, while amidst this the human soul seeks to manifest itself. This work represents this inherent struggle intensified by the dark brown colour.'
Akhil Chandra Das completed his MFA from the Maharaja Sayajirao University of Baroda. He has participated in numerous group exhibitions across India, and in 2015, was awarded the National Award in the Senior Category at the 28th National Exhibition of Contemporary Arts. Akhil also is an Assistant Professor and is the Head of the Department of Sculpture at the Government College of Art & Craft, Kolkata.
Famous for his sculptures that are mirror his deep exploration of form and medium, Akhil primarily uses bronze and wood to make complex social commentary. Using animal forms as an allegory, his works take on the contentious concepts of cultural decadence, hypocrisy, capitalism and erosion of values – all with his own streak of surrealistic absurdity.
Why do you do art?
Well, to be really honest I don't know why I do art and I am sure no one knows the answer either. It's an integrated part of my life and it is something which defines it, both as an artist and a human being. You know, you get this strange inner satisfaction if you are engaged in the process of making art; it is something that supersedes the pleasure or satisfaction one gets through monetary or other materialistic gains. To be able to work independently gives a meaning and a direction to my life, something which can't be attained through any other means.
Where do you see yourself five years from now?
Making art is an adventure. One never knows where it will take you. In the last 20 years as an artist, I can only say that every day has been a new experience; and hopefully, in the coming five years, I shall be more experienced in my work. I would try and make sculptures imbibed with more subtle human emotions. See, learning is a continuous process and up untill our last breath we learn and manifest our thoughts one way or another. I will simply try to manifest myself through my art.
If you could meet your artistic hero/inspiration, who would that be?
Inspirations don't come linearly or from a single point. You are living and sharing your space with other fellow mates, be it friend, family or anyone. They opt to inspire you directly or passively every time. In my early days as a sculptor, I was inspired by Alberto Giacometti. I was moved by his formal way of presenting human form with linear distortions in the height, and his subtle details. I was inspired by my teachers in Baroda in MS University during my post-graduation. Most prominent one was Mr. Raghav Kaneria who was my teacher there. His works fascinated me a lot. They helped me develop my own style and visual approach in dealing with expressions.
Who or what keeps you company while you work?
Definitely it is my family members. Without their support and encouragement, it won't be possible for me to give so much time and resources to my work.  They usually accompany me when I am working in my studio or whenever I travel.
How would you want to be remembered?
An artist always wants to be remembered through the works he/she did and I am no exception in this. It's not the topography of the artist face or the colour of the skin that counts. It's the quality and the sensibility reflected in the works that matters. Do you know the artists of the Ajanta caves? No. But the whole world knows about it. They are with us every time we see the murals and talk about what they did almost fourteen hundred years ago. There is no alternative to hard work. If one wants to earn a name in their field, he/she need to contribute something indispensable and in visual art it can only happen if you are ready to explore yourself and the world around you. Again, I am repeating, an artist, to be specific a visual artist is not remembered for his/her choice of words or lifestyle. It is only the works that make an artist immortal.
Share