Textures and Layers: Beyond the Two Dimensions of Expression
Tao Art Gallery in Mumbai is all set to open their doors for their first physical exhibition in a post-COVID world. 'Textures and Layers' headlined by Michelle Poonawalla and a host of other homegrown artists opens on the 16th of December.
Team AI
Poonawalla's exclusive piece, Blue Wave echoes the very breath of the Bombay shoreline – a letter of admiration to the city's resilience and the ephemeral nature of life among the rush and the crowd. The work offers Textures and Layers, Tao Art Gallery's first physical exhibition in a post-COVID world, with a reference point, an LZ of sorts, where all the diverse set of artworks can rest, simmer and ignite a sense of belonging. There is beauty and rhythm in how five leading artists, including Revati Sharma Singh, Kisalay Vora, Jaideep Mehrotra, Kalpana Shah and Shruti Jhaveri, collectively narrate their thoughts alongside Poonawalla's larger than life canvas pieces. The textural nuances are highlighted in a greater sense, as the artworks speak of more than just a narrative put out to tell the observer a story. They speak of delight, of being able to be put on display at such a time, when art otherwise struggles to get up, close and personal. And as such, the believers at Tao are elated to bring the artists and the patrons together for an experience many of us have forgotten what it feels like. Textures and Layers is one massive response to a crisis that almost defeated more than just our hopes.


'Texture, dimension, shine, movement and so many other aspects in contemporary art need to be experienced. The works on display in Textures and Layers, each speak a distinct narrative across myriad mediums', explained Sapna Kar, co-curator of the exhibition. And true to her words, the show boasts exemplary pieces of high art, as represented in Shruti Jhaveri's The Metamorphism and Revati Sharma Singh's Avant Garde pieces titled, Temporal Patterns Fragmented Landscapes. Set in a subtler Pollock-winded style, Poonawalla's What if you fly! finds its voice in its motif, providing impetus to her Colours of Life series – a box full of artworks worked upon during the lockdown, giving it a powerful story on the canvas. The works relay a poetic expression – a shared, texture-based, intrinsic working that is also found in the striking layers of Kalpana Shah's works and in the holistic balance in Kisalay Vora's pieces. The only outlier in the exhibition is Jaideep Mehrotra's dystopian, unnerving pieces Morph 1 and Morph 3, which successfully diversify the audience's experience.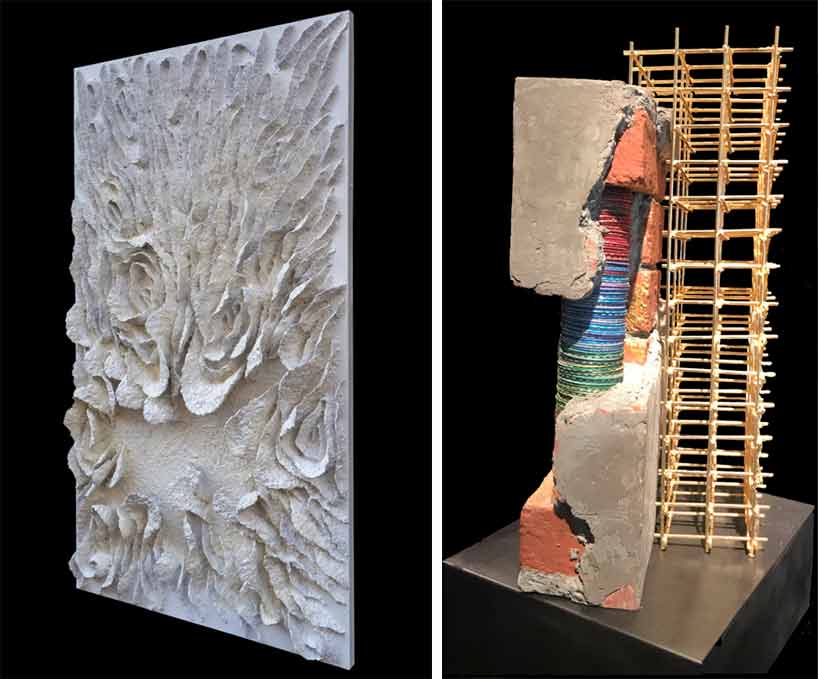 For Sanjana Shah, Tao Art Gallery's Creative Director and the show's co-curator, the true experience lies in giving the exhibition its deserved materialisation into a physical one. 'I believe that true to its historically experimentative nature, art cannot be confined to a primarily virtual platform. To understand the art, one must understand its essence, by interacting with every aspect of it minutely. Every artwork is imprinted upon twice, once by the hands of its maker, and the second time by the senses of its observer', she said. Opening on the 16th of December and on till the 10th of January next year, the almost month-long, exciting exhibition is all set to bring the best of textural craftsmanship close enough for a physical touch; and we, for one, can't wait for it.


________________________________________________________________________________________________________
All Images are Courtesy of the Artists and Tao Art Gallery, Mumbai.
_________________________________________________________________________________________________________
'Textures and Layers' opens for public viewing 16th December onwards by appointment only 
Schedule an appointment here OR reach out the gallery at info@taoartgallery.com OR  022-24918585
Share