Poetry in Stillness
In the times of red-tapes, restrictions and social distancing, 'On Street Photography and the Poetic Image' provides creative insights, lyrical ruminations and a whole other way to engage with photography
Poonam Ganglani
Among the things I've missed most since the beginning of the global pandemic, have been my visits to art galleries and photo exhibitions. There's something about the live exchange between the complex world of a photograph and the viewer's private observations of them, that can't quite be replicated by the online experience. Fortunately, I stumbled upon On Street Photography and the Poetic Image in the meanwhile. Bringing together the work of photographers Alex Webb and Rebecca Norris Webb, the book is an eloquent glimpse into their artistic choices and processes, and to their intuitive approach to both photography and bookmaking.
The photographs of Alex Webb tend to capture the gritty dynamism of the streets and the colour of human life within them, while those of Rebecca Norris Webb prefer to deal instead with the natural world, bearing a more elusive and reverie-like quality. Together, their photographs evoke a range of emotional notes and form a sonorous whole. They also draw from great masters of photography, including Ralph Eugene Meatyard and Henri Cartier-Bresson, highlighting paradoxes and beguiling moments that struck them in some way, and remained imprinted in memory.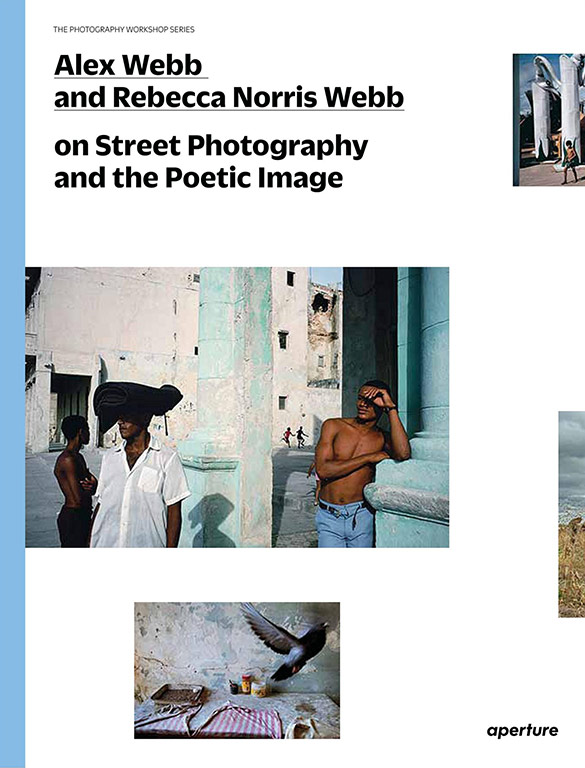 What I perhaps enjoyed most about On Street Photography and the Poetic Image are the creative insights and lyrical ruminations from the photographers, each matched with a fitting photograph from their collections. In one of my favourite passages, Alex Webb talks about the process of looking for photographs: 'I sense, almost "smell" the possibility of a photograph. I try to follow the rhythm of the streets, sometimes walking through situations, sometimes hanging out. It all depends on what the world gives me on a particular day.' The sense of being driven by curiosity, of conversing with the world around them, and of discovering themselves through the photographs they take, permeates all of their work.
On Street Photography and the Poetic Image is the kind of book you'll want to spend time with, stroll through its words and photographs – and take the time to linger – so as to fully absorb its beauty. In these dark times, this book is sure to inspire new ways of seeing.
___________________________________________________________________________
Alex Webb and Rebecca Norris Webb, On Street Photography and the Poetic Image. Published 2014 by Aperture. ISBN-10: 978- 1597112577 ISBN-13: 978- 1597112574.
Share