Keep Calm and Drag On
When fashion is a drag…. and it's a good thing, providing the ideal medium to highlight the futility of regimented gender constructions through the medium of exaggeration and comedy
Arti Sandhu
Opening Scene
It's almost 10:00 p.m. Chicago Central Time and I'm both nervous and excited! Over the past few days I've binge-watched every video I can find of Maya the Drag Queen – my favourite being Maya's performance to the song 'Sari' at the Humming Tree, Bengaluru, which is a riff off Justin Bieber's 'Sorry', originally performed by Chicago-based drag queen LaWhore Vagistan (who happens to be Maya's drag mother) featuring Auntie Kool Jams – and in just a few minutes I'm about to speak to Alex Mathew – the creator and performer of Maya – over the phone.
In India, 'drag' is still unchartered territory and Maya is virtually a pioneer in this genre. And, while novelty is not always a bad thing, in an environment where the LGBTQ community has much to struggle for in terms of equal rights and acceptance, it does come with added baggage. In addition to this, there are various misconceptions about gay culture and drag queens. Partly due to the long history of men dressing as women in dance and theatrical performances in India, as well as due to their being mistaken as eunuchs or transgender. This means that most conversations with Alex about Maya begin with explanations and clarifications.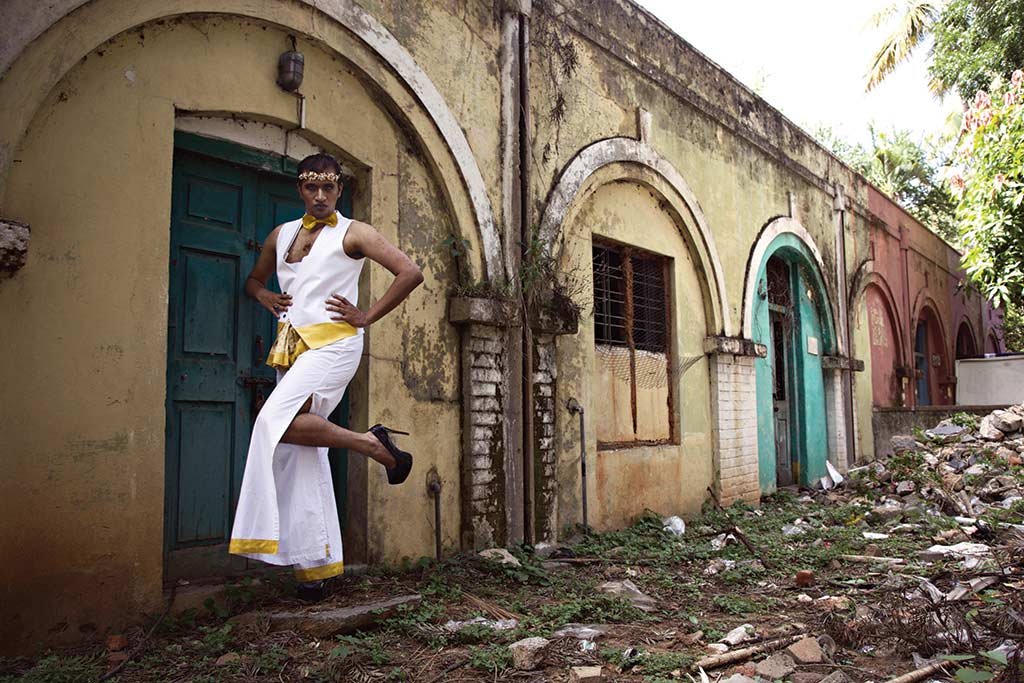 As Alex has outlined in his previous interviews, 'drag' is distinct in that it applies to those instances where men dress and perform as women as a creative outlet and act of self-expression. Often these performances involve exaggeration of certain feminine traits or reinterpretations of famous pop songs, film acts, and so on, paired with flamboyant costumes to create memorable characters that evolve over time. Drag is unique in how it represents femininity through a myriad of contradictions – beautiful yet broken, bold yet vulnerable, classy yet crass, polished yet rough around the edges, deadpan yet always comical.
Fashion plays a critical role in bringing drag to life as it provides the ideal medium to fully take on the larger-than-life feminine roles it attempts to portray. However, despite all the costumes, bedazzling, padding, tucking and layers of make-up, the parody of womanhood is never perfect. Hence, drag ultimately portrays gender (not women) as a joke, thereby highlighting the futility of regimented gender constructions, laying bare their hollowness, and, through the medium of exaggeration and comedy, opening up a dialogue about more serious issues pertaining to gender and sexuality.
On Maya's Beginnings
It is 8:30 a.m. in Bengaluru. Understandably, Alex is not in character, but he and Maya share many things in common, including the unmistakable Malayali accent and a warm nurturing tone.
Alex begins by speaking about his roots in theatre, where he says he found himself stagnating fairly quickly. 'My diction is horrible … and then there is the strong Malayali accent!' he says unapologetically. He recalls an incident when a renowned theatre actress told him, 'Give me six months of your time and I'll get your diction right.' Watching films like Mrs. Doubtfire, Chachi 420 and reruns of Dame Edna's performances and RuPaul's Drag Race gave him the courage and initiative to experiment with drag to turn his faults into strengths.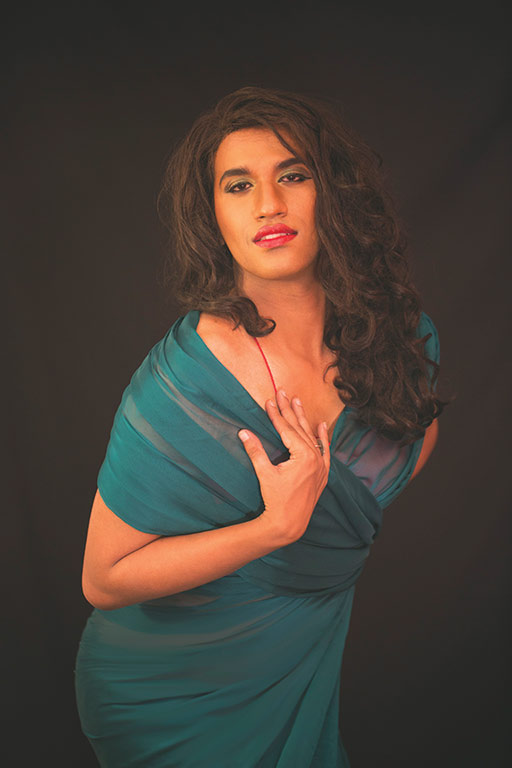 Alex had already toyed with drag when he was in 11th grade for a fancy dress competition in school,  where he dressed up as a female character – inspired by the Malayalam film Manichitrathazhu. He vividly remembers how his mother helped him dress the part in a dance costume. Years later, for his initial drag performances, he once again turned to his mother for assistance and recalls her giving him a pink cotton sari with a purple blouse, jokingly asking 'if the blouse is too loose or tight?'
This was a turning point for Alex as he realised his performance was somehow a continuation of his mother's legacy.
His original stage name Mayamma the mother of illusion was a slight misfit since people couldn't distinguish between drag, cross-dressing and transgender. Hence the transition to 'Maya the Drag Queen', which he says additionally allows him to shape shift seamlessly from 'being a Kerala woman in a traditional sari, to wearing yellow chiffons, to becoming Madhuri Dixit'.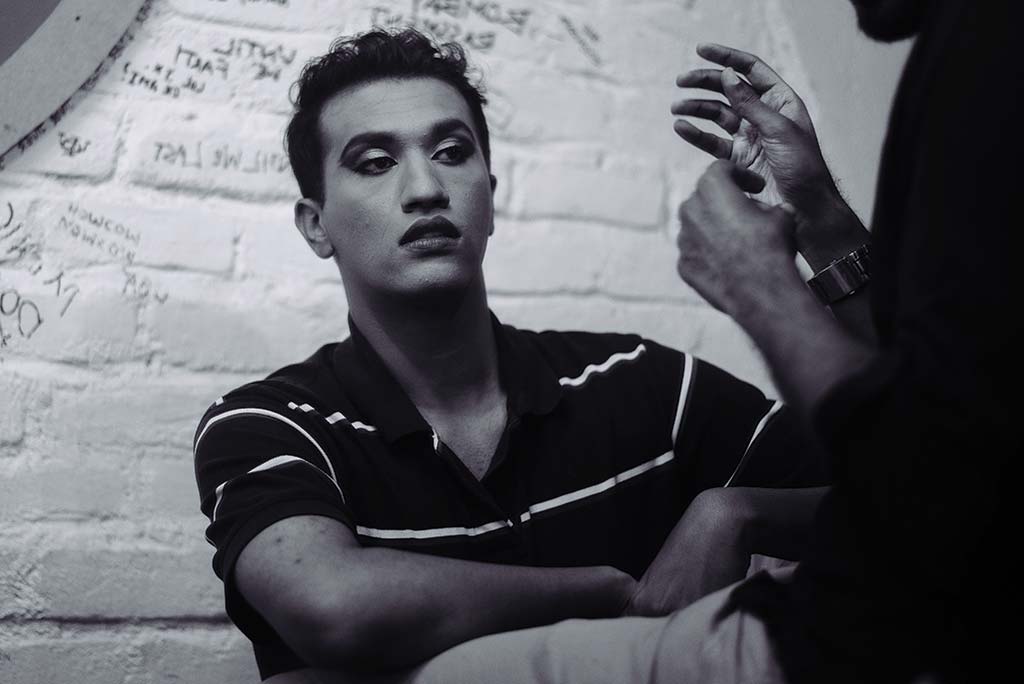 On Maya's Look
Alex doesn't mince words when he says drag was perhaps the best outlet for his feminine traits, love for performance and fortunate curves – that seem to have no trouble holding up a sari. 'When people ask me 'Why a sari?' I say, 'Why not a sari?' If I have to be an Indian drag queen then my character has to wear a sari!'
For the uninitiated, Maya the Drag Queen wears mainly traditional saris and is most at ease while parodying familiar South Indian aunty-isms, or singing along to Bollywood classics and Western gay pop anthems. In Maya, Alex combines traits that are poised yet comically unrefined, patiently nurturing yet capricious, serious yet downright funny. Fashioned after his mother and other familiar aunty figures, Maya carries herself with a graceful air. Yet, as I mentioned earlier, this illusion of womanhood in drag is never perfect, which only adds to the allure. Like some of her other contemporaries (such as Pammi Aunty) Maya is also successful in turning the mirror back on Indian society… and this makes you laugh.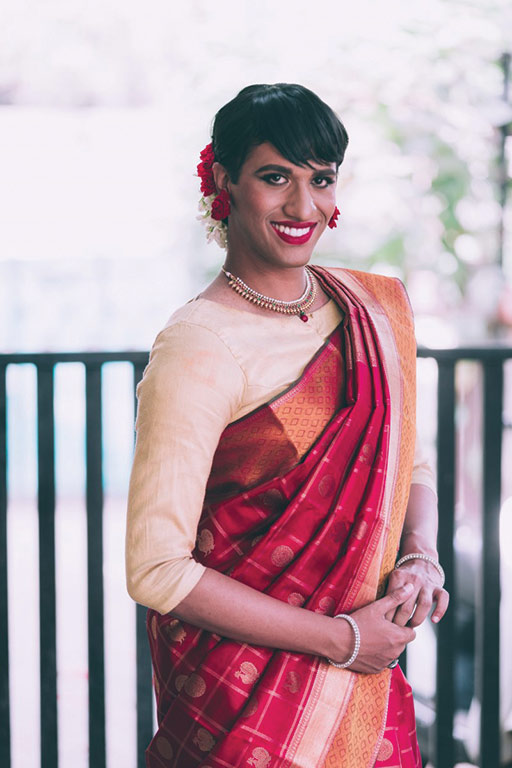 In comparison to popular American drag conventions where the make-up and overall look is exaggerated, fierce, contoured, padded and tucked, Maya's is softer, more realistic and relatable. Her make-up is natural and the choice of clothing – the sari – doesn't call for any extra underpinnings or exaggeration. This seems like a sensible choice. Drag artists can appear intimidating and people sometimes make the assumption that they are unfriendly or unapproachable, so Maya's relatability makes for a successful entry point for Alex.
On Drag in India
I ask Alex about what place drag has in India and what importance, if any, it could serve? He responds by saying, 'My whole point of doing drag is that there are boys and girls like me who want to be who they are. They want to celebrate their individuality and I hope they gain confidence from my example.'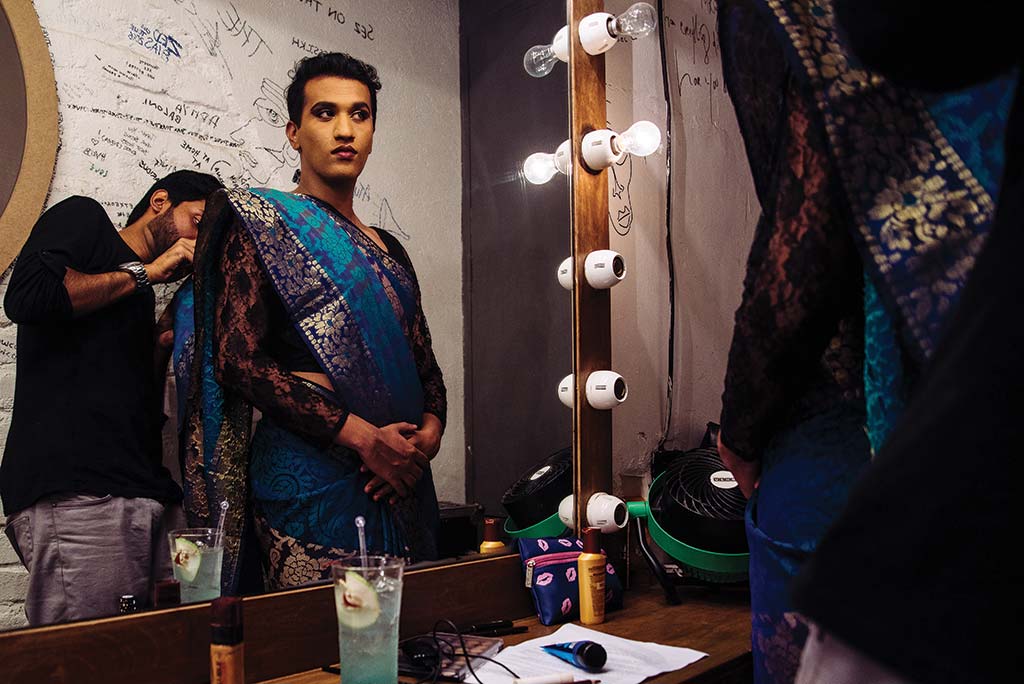 'When I started drag I didn't think I'd get this far, you know, do so many performances or do a TED talk even! Eventually, drag for me was also a way to join the discussion on gender equality, feminism and individualism, and on a higher level challenge our patriarchal society.' Alex quotes RuPaul who once said, 'Drag queens are the mariners of the LGBTQ community'. 'But I want to take this one step forward, as I believe anyone who is proud of their individuality can be the mariner of an entire community.'
After we sign off, I, too, am reminded of an interview RuPaul did a few years ago with the LA Times where he states: 'Drag is important because it reminds our culture to not take life too seriously'. We certainly need a good dose of that right now!
Share