Wrapped in Minimal Lines
In an exclusive, Dubai-based Moroccan artist Ichraq Bouzidi talks about her art and practice that explores the nuances of fiction, reality and identity through surrealistic and minimal lines
Tessy Koshy

Dubai-based Moroccan visual artist Ichraq Bouzidi studied architecture and urban planning in Morocco and Belgium. Following a decade-long successful career as an architect, she decided to pursue her childhood passion for art in 2018. Today, we see traces of her architectural pursuit in her artwork – wherein figurines often traverse stairways, skyscrapers and mazes. Ichraq's illustrations chart a minimalistic approach that merges fiction with reality. Through her art, she explores themes of urbanity, duality, gender equations and the many relationships we humans share with our environments – every day experiences and surroundings find their truth in surrealistic expressions, and creative metaphors question the conflicting aspects of contemporary society.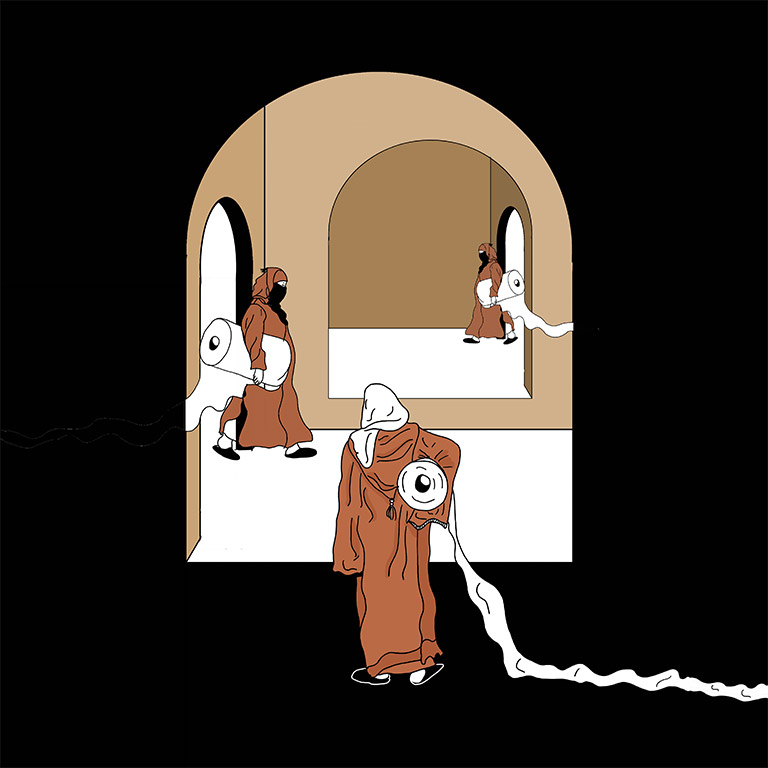 A winner of the Dubai Design District Creative Fencing Competition (2019), Ichraq creates in a variety of mediums ranging from digital illustrations to sculptures, installations and paintings. Redefining the very meaning of 'versatile', she is in the process of creating a cultural board game in collaboration with several other artists that navigates the concepts of culture and identities; and is busy drawing a series of illustrations that she hopes to compile into two books titled, Convenient Tales from Home and Humans of Dubai. So, obviously, for Ichraq, the ongoing pandemic and the seemingly endless days in confinement manifested themselves through a series of 68 illustrations, sculptures and paintings. In these artworks she portrays, for instance, women sitting on flowers to showcase social distancing; and the dilemmas of a working mom managing work from home and domestic responsibilities with the travails of online schooling – each depicting a range of upshots of the current crisis and its varied impacts on different sections of the society. In an exclusive interview, she spoke about her art and her practice and the inspirations she finds in the everyday.

Excerpts from the Interview
How would you describe your art? Give us a peek into various art forms you dabble in?
My art is all about emotions and feelings depicted through a poetic, minimalistic and often metaphorical point of view. Duality and identity are at the core of my art practice, and so are time and memory that play a key role in my work. The medium does not really matter as it is just a tool to express and showcase my work. I like to explore different mediums such as illustrations, paintings, installations, sculptures and animation. I also sometimes revisit the same work using different mediums to understand the best way to express it.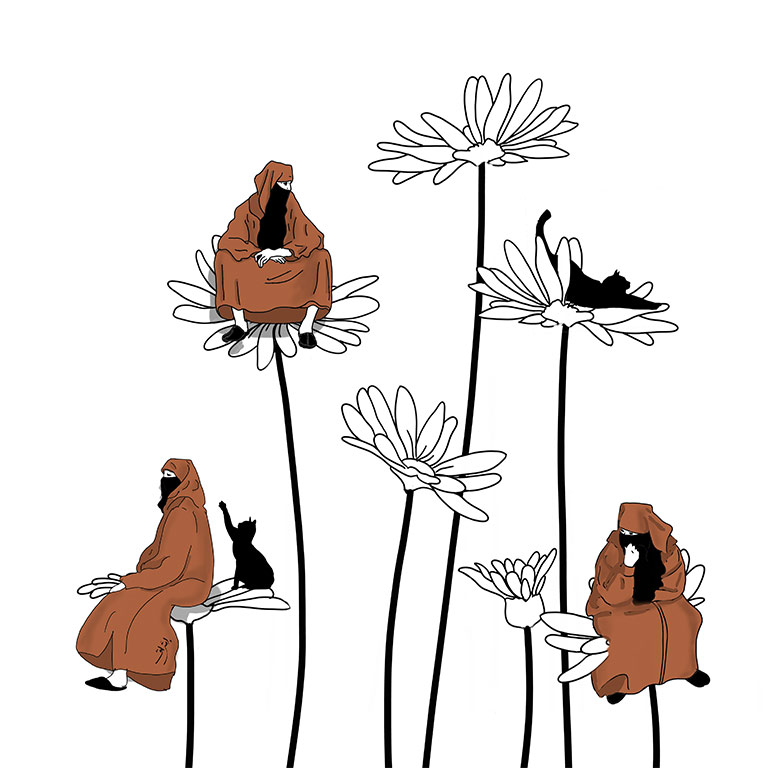 What inspires you to create art? 
My work is usually a reflection of my present or my past, infused with real and personal experiences. I usually get inspired by the glimpse of a memory, a souvenir or even a person I might have met in the past. And at times my art is centered around just random routines and day to day events and facts.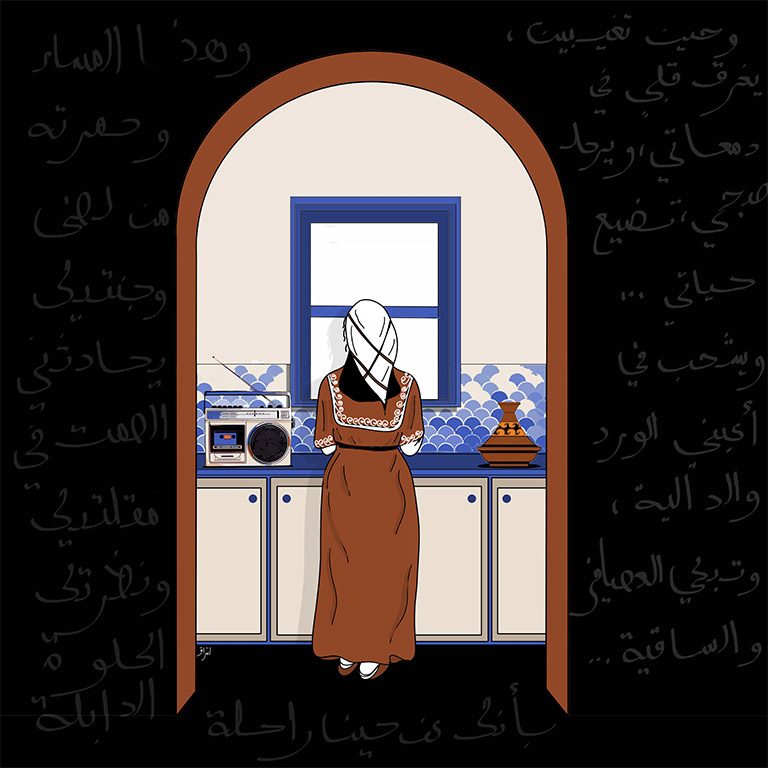 Give us an insight into your creative process?
It always starts with an emotion, and then that slowly takes shape into an idea. I usually keep a notepad in which I jot down all kinds of random thoughts that cross my mind. And then I delve on them reflecting on how to express them using sketches and illustrations. Once the idea is defined, I choose the medium that I feel it fits best in. I also try to maintain a daily illustration habit as an exercise for the soul and the hand.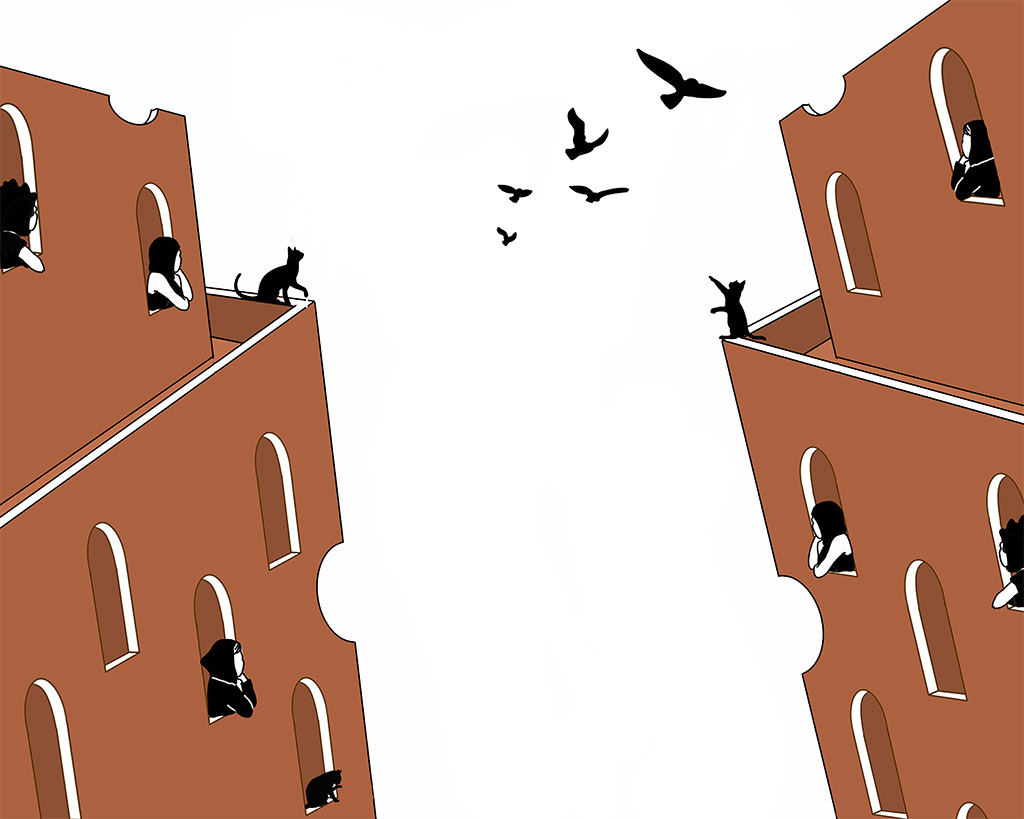 What do you want your viewers to take away from your works?
I draw and create hoping that my work will intrigue them and trigger their feelings and emotions. I think of art as a conduit of shared experiences that mostly go beyond what words can express. I also see it as a way to share my own day to day experiences and feelings with an audience, as a way to reflect on the quotidian and also a way to escape it.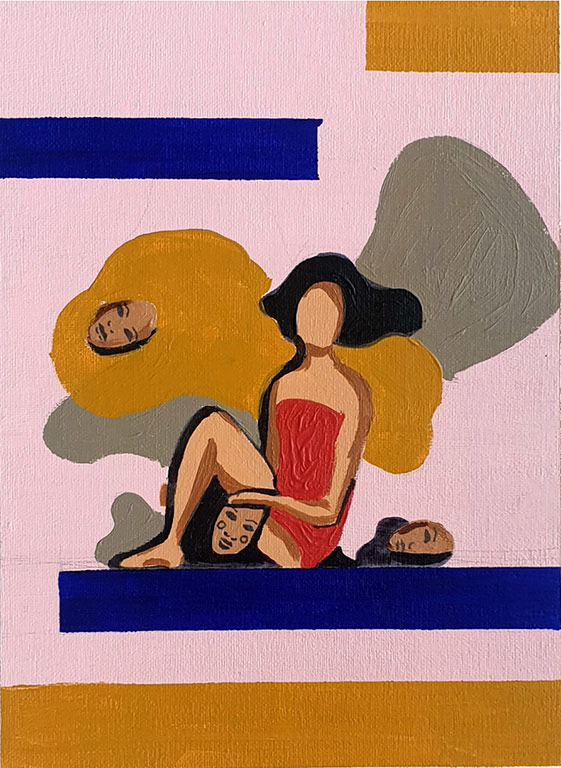 You studied architecture in Morocco, and now you are a full-time artist. How did that transition happen and how does architecture shape your current work?
I've always wanted to study art. I started drawing at the age of six and was very passionate about it. But pursuing a career in art was out of the question in my home. So, I chose architecture to please my parents. I worked for almost a decade as an architect before taking the plunge in 2018, when I quit and decided to pursue my passion. I submitted some of my illustrations to Dubai-based Tashkeel Studio's Open Call Play and the Dubai Design District Creative Fencing Competition. Being selected for both was a sign that it was time to pursue my childhood dream and that's exactly what I did.
I think architecture has helped me envision things in a creative light. It has taken a big part of my life. And its influence is reflected in my art first, in the way I approach it, and subsequently, in the minimalistic style that I have chosen to adopt. The way I start an artwork is exactly the same way I used to begin an architecture project. Research, conceptual readings and design development are common phases in both.

________________________________________________________________________________________
Tessy Koshy is an independent journalist based in Dubai
Share