In Search of a Witness
In conversation with legendary artist Arpana Caur on all things epiphanic, on all things pandemic, and on all things artistic
Praveena Shivram
When the ease of the e-mail arrived and pushed the charm of a letter to the dusty attic, the transition seemed somehow quiet, weighed down by the gravity of the past, like mourners leaving a wake in silent groups. The idea of words and images travelling across virtual distances in binaries, in ones and zeroes, and not in stacks loaded on to trains and vans and aeroplanes, was so revolutionary, the 'inbox' such a treat, that no one noticed the empty post boxes. So when Arpana Caur managed to invoke that sense of an inland postcard being dropped through the slot of the letterbox by the door with an e-mail, you somehow knew, much like her paintings, that in this space, there is no one or the other, there is no this or that, there are no reducing binaries, but only the earthy scent of an unfolding horizon, the comforting grip of moist nostalgia that carries with it the soft cadence of the old and the rhythmic skips of the new. With Arpana Caur, contrasts are contained in the palm like a pebble, smoothed over time, that when dropped into even an e-mail interview, creates ripples of change.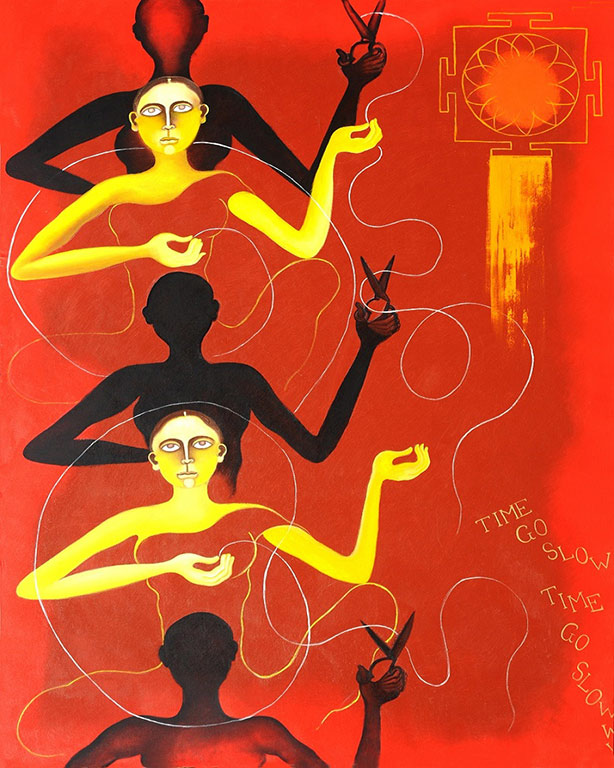 As we try to wade through the debris of an unequal society now glaringly manifest through this global pandemic and, for us, closer home, through this humanitarian catastrophe unfolding around us, it becomes imperative that we turn to an artist who has been witness to this widening rift that we see only now as it bursts at its seams, right from when the threads began to fray. We turn to Caur, who has, over the many decades of dialoguing with art – 'There has never been a gap of even a day when I did not paint. It is the greatest gift I was given and leads to unbelievable self-discovery and new challenges every day!' – also managed to coalesce her own unravelling through it all, a valuable lesson for us today as we grapple with the personal and the collective, without the fulcrum of certainty, however fragile it was. 'Painting, for most artists, is always a release, a self-discovery and upliftment. Rarely does any artist think of the "returns", the only return being immense, unimaginable freedom and joy, which I too have been fortunate to experience, even in these very dark times when images of lakhs of migrant labourers trudging hundreds of miles on empty stomachs to their small hamlets. What can one do but weep for them and share a bit of the art earnings (of the past) with the free kitchens (langars) being run? One image I did a large canvas of in these times is The Last Supper, about the rape of our God-given natural resources that led to this crisis,' she says.
In an interview with Rajiv Mehrotra for his 'In Conversation' series, Arpana speaks with measured unhurriedness, like she knows the road of sentences is already laid out and getting to the words any quicker is not going to make its meanings any easier. That tone stayed through this interview, much like her artworks that sing softly yet powerfully, in a voice as inherently embedded in our skin as our mothers' lullaby transforming the terrifying darkness into an explosion of dreams.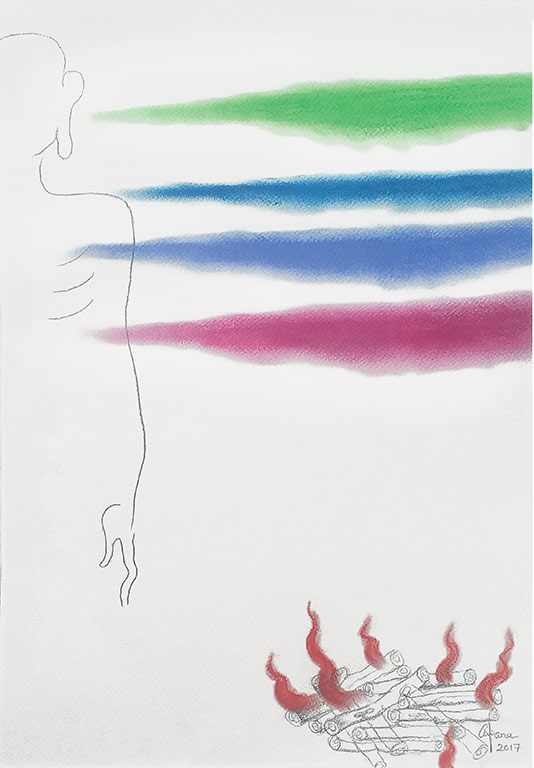 Excerpts from the conversation 
You have been a self-taught artist, largely influenced by your mother and her writing; and you are a literature student yourself. Was there ever a conscious moment when you decided you wanted to pursue painting? Because when you began, art was not a viable career option. And it continues to be riddled with politics of the economy.
I was never confident of my work. My early works were influenced by Amrita Sher-Gil and M. F. Husain, but the subjects were always contemporary, such as lack of an audience for art (Missing Audience series of 1980) or the socio-economic disparity (Maid Servant series of 1975). There were no collectors in Delhi when I began to show in 1974, and everyone seemed to go to Mumbai where mainly Parsi collectors were patrons even of young unknown artists. Artists from Chennai, Kolkata and other places did the same, I think! So after two shows in Delhi and one in London in F.N. Souza's wife's gallery in the 1970s, I took my work to Mumbai in 1980 and came back empty handed, as in, my paintings sold out! The press response, too, was overwhelming. It was a huge injection of confidence which I totally lacked, and I began to go back to Mumbai every two or three years.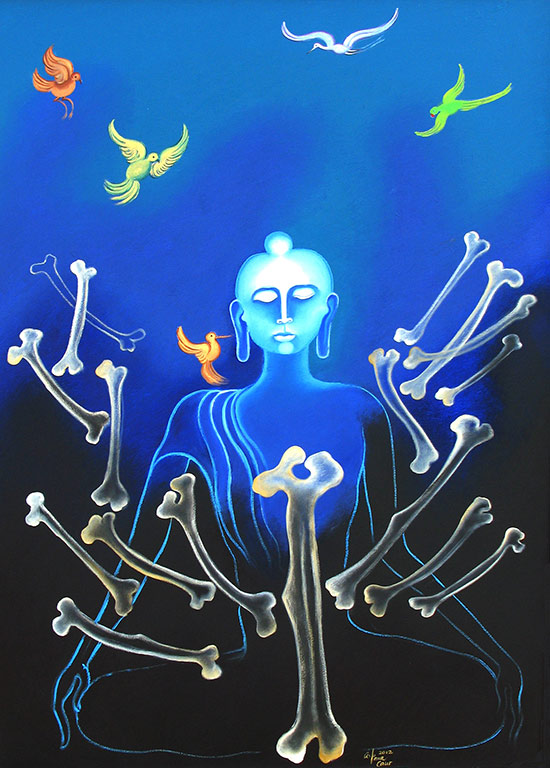 For many of us, this pandemic has come as a rude awakening, of how dysfunctional our systems are and how broken society is. But for someone who has actively engaged in the politics of socio-economic identities and the environment, does this pause in the world seem like a reaffirmation of all that you have spoken about through your work?
I began my Environment Series in 1988 when I saw my Delhi change from a quiet languorous city to one of chaotic construction, tree-cutting and greed. It has been 32 years, now, of witnessing. In my first work in the series, Green Circle, I took the Sita myth where she draws her own green circle in the middle of crazy traffic, construction and pollution. Now we are choking. After which, there were many Dhartis and Prakritis and free, non-commercial murals in Delhi, Bengaluru and Kathmandu. Also, my mother and I have fought court cases for trees and parks, in the Supreme Court, High Court, the Green Tribunal, and succeeded half the times at the cost of immense time and energy, but one is driven to actively participate and not just paint.
Now, staring us in the face in 2020 is the loss of our beloved National Museum with its huge undocumented collection and the Indira Gandhi National Centre for the Arts, to office spaces in one of the greenest iconic areas of Delhi – the India Gate. This big decision to change land use was made by the government in the middle of the Covid crisis at the end of March. And I continue to witness and protest.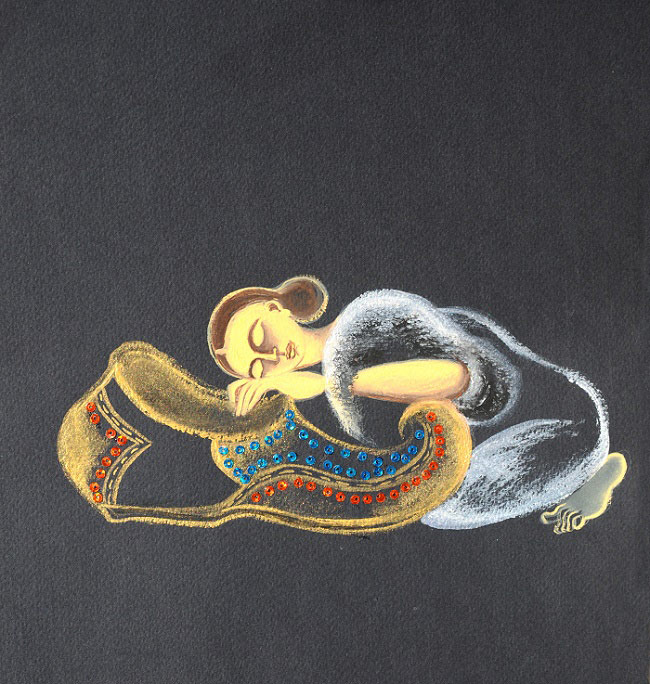 Tell us a little bit about your Gouache paintings. How differently does space dialogue with you when you work on large-scale paintings as against the smaller Gtouache paintings?
I have always done Gouaches – drawings and etchings – from the very beginning, and that means for the past 50 years. As a large-scale painter who likes life-size figures and murals, a smaller format expresses images that are appropriate only for that format. I know instinctively. Images always flood my mind and I decide which one needs what kind of scale. Some images need large empty spaces of canvas, some need only that much and would not look good in a larger size. Somehow, I know!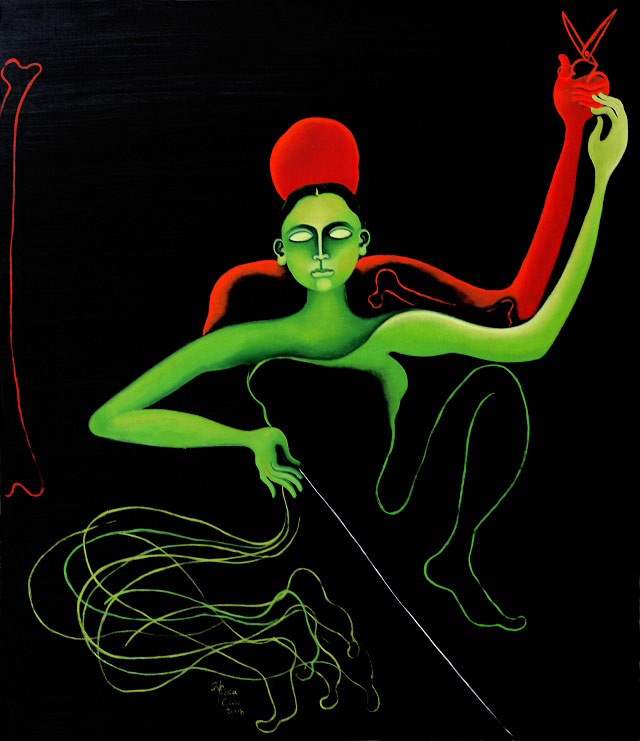 And, finally, if you had to look back at your life and think of moments when you knew life as you knew it would change irrevocably, what would those moments be?
If you ask about life-changing moments, I'm afraid they're not happy ones, and I would be the last person to expose wounds. My mother has written powerfully and movingly about these in her autobiography Weaving Water. Maybe art was the great therapy for me. It is the death of loved ones at an early age – my only sister, my grandparents – that led me to an acute consciousness of life and death that I continue to paint, for the past three decades, as the 'Day and Night' series. These memories remain with you like shadows, even as you enjoy your painting, your walks, your trips to ancient places, the rich flavours of each region of this country. So, for me, the freedom of the new always coexists with the boundaries of the old.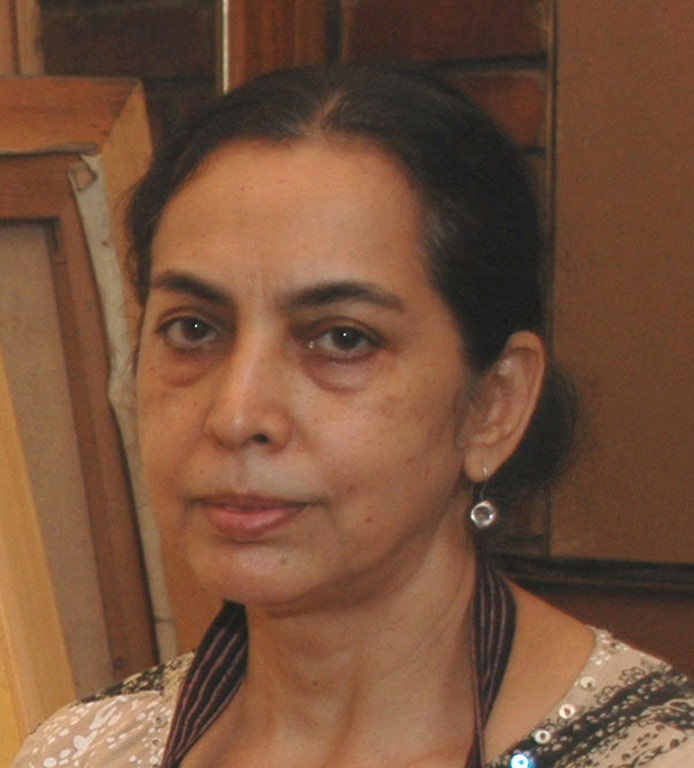 _______________________________
All Images Courtesy of the Artist.
Share