The Art in Everyday Living
Artist-couple V Anamika and N Ramachandran walk us through their studio space in Chennai that is not just a reflection of the art they produce and the bits and pieces of the world they bring back with them from their travels but a telling narrative of art that resides in the everyday, carrying with it a flavour of ephemeral beauty
Meera Rajagopalan
Photographs by Narasimha Rao
As I ride to the studio of artist-couple V. Anamika and N. Ramachandran, staving off traffic on a Sunday morning, past the once-distant but now-accessible Cholamandal Artists Village, I ponder about how that's a perfect metaphor for the art it produces. I take a U-turn, and enter a narrow dusty road, and ask for directions at a mechanic shop by the Gowri Amman Temple, a small structure that seems incongruous in the changing landscape.  Zoomed in, the serene temple seems like it's the centrepiece of a small village; zoomed out, the cell phone shops and the revving bikes reveal the temple for what it is: a piece of history struggling to maintain its relevance.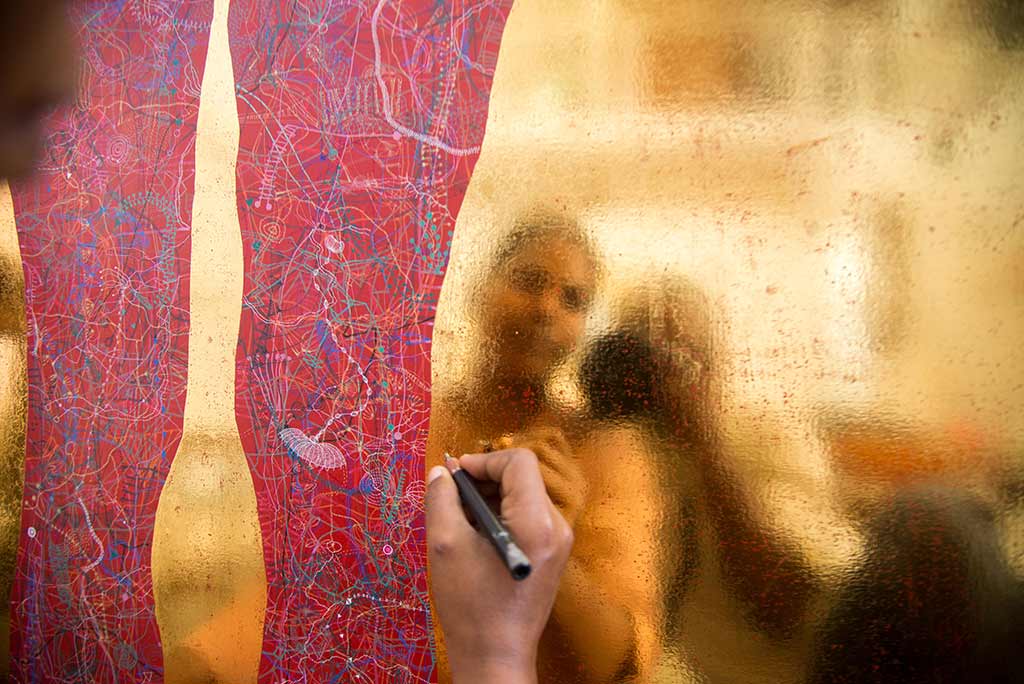 So, when I enter the studio-and-home of the artists, the bright room with its 15-foot ceiling does not catch my eye as much as a nearly 6′ by 6′ artwork by Ramachandran: a photograph of a busy commercial street, half of which is inlaid with a larger-than-life Tanjore painting. 'It questions the relevance of divinity,' he explains, reflecting my experience of just a few minutes ago.
On the opposite wall, two of Anamika's 4′ by 6′ canvases are resting: more than 21 layers of fine lines and curves and doodles, all over one male and one female silhouette, effectively obliterating the idea of the body. The work, part of the series, I see what I draw attempts to reflect the natural world as the artist sees it: seemingly random, layered, fractured narrative threads that are in harmony. Anamika's work, at once introspective and evocative, is the perfect foil to Ramachandran's, which, like a particularly eager news debate anchor, aggressively poses questions to the viewer.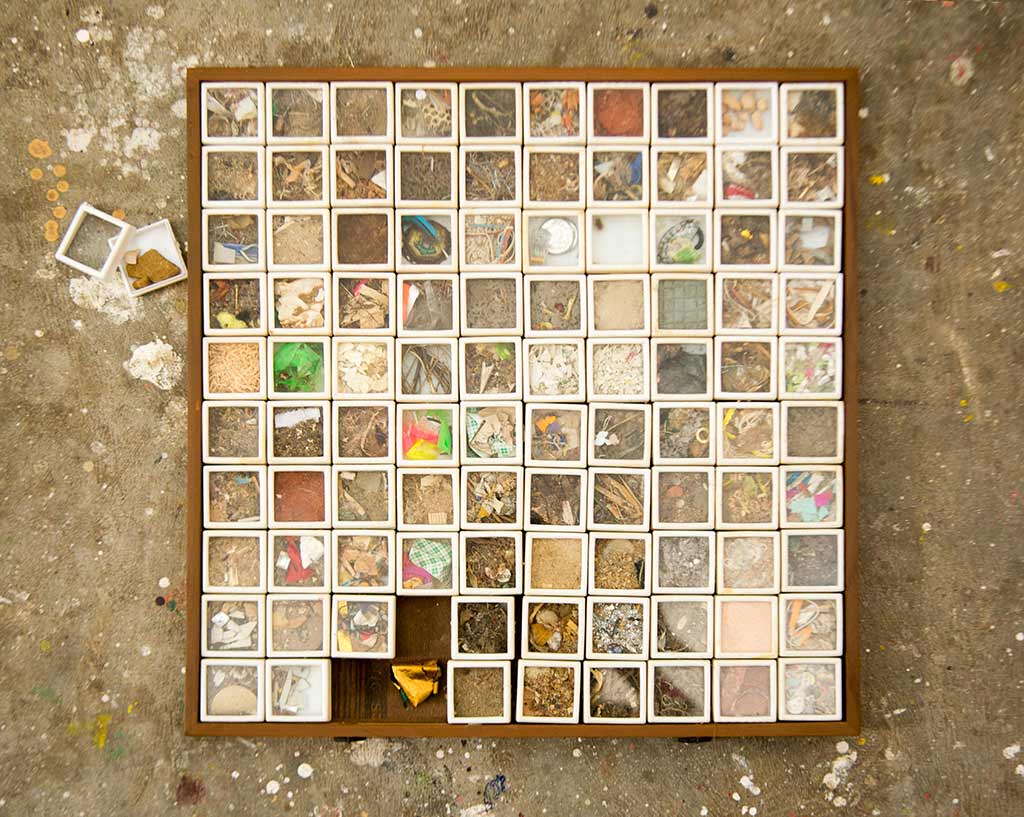 The studio space is spread out over the entire house: three floors of  it, and no room is spared. On any given workday, either or both are furiously working – sometimes on the floor, sometimes with the work placed horizontally on a large table. 'We've somehow never gotten used to easels. Perhaps it's because the easel renders our work a bit distant,' says Anamika.
The high ceiling ('Yes, it's lovely, but difficult to clean') draws the eye to a gallery of masks collected during their various travels around the globe. It's like a hundred faces – angry, smiling, pensive – are critically eyeing the goings-on under their gaze.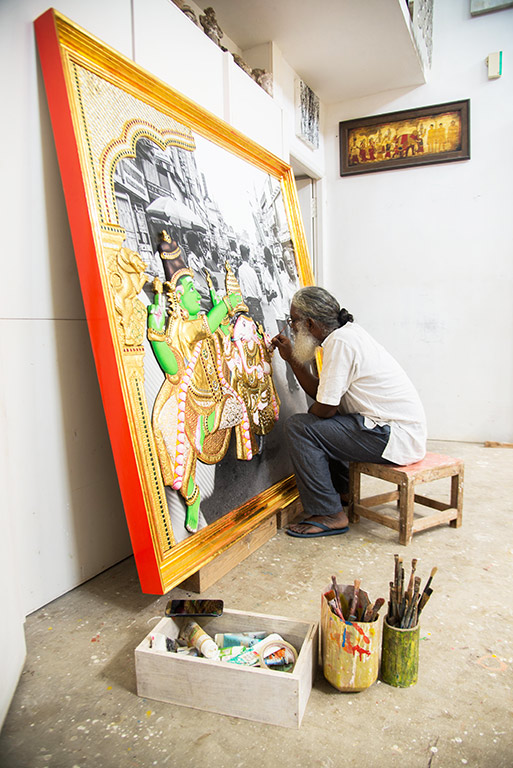 The main studio leads to the darker, smaller spaces within: an 'experimentation room' where their techniques in media are perfected. This is where rows upon rows of paint and stacked blue crates of what they simply call 'things' reside. I notice these 'things' are a veritable menagerie of random products. Anamika pulls out, from one such crate the following wrapped in newspaper: a packet of tiny plastic sea creatures, pebbles, a plastic toy of a roundabout, and a metal vel (Murugan's spear). The first floor houses the digital studio, reached by a staircase that the wall of masks is peering into. This is also where the couple's magnum pus, Proof of Experience with Material, is taking shape.  It's as simple in its concept as it is complex in execution. Inspired by the paint that peeled off from the Ajanta murals that they collected during one of their trips, the project is a compendium of all the material they come across, ultimately a reflection of the relative value of material. Sample this: in one of the arrays is a page from a daily calendar, some used matchsticks, sand from various places, a couple of sea shells, a pull-tab from a soda can, and an insect. Each 10′ by 10′ array is in plates and the project will have 100 such plates.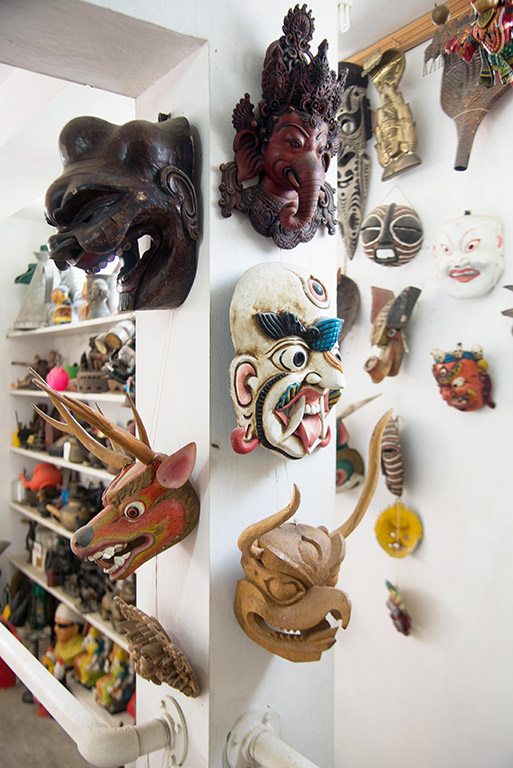 This mosaic of their individual and collective experiences form and inform the spaces they live and work in, seamlessly integrating with their art, so that it is possible to view, at one glance, their finished works and works-in-progress, a collection of masks ('We love masks. Period.'), a couple of cats ('Takes us closer to nature') and scores of cactii ('Nature's design genius').  The floor above the digital studio is their godown and alternate workshop space, filled with canvases, leftover materials from other projects and a few portraitures.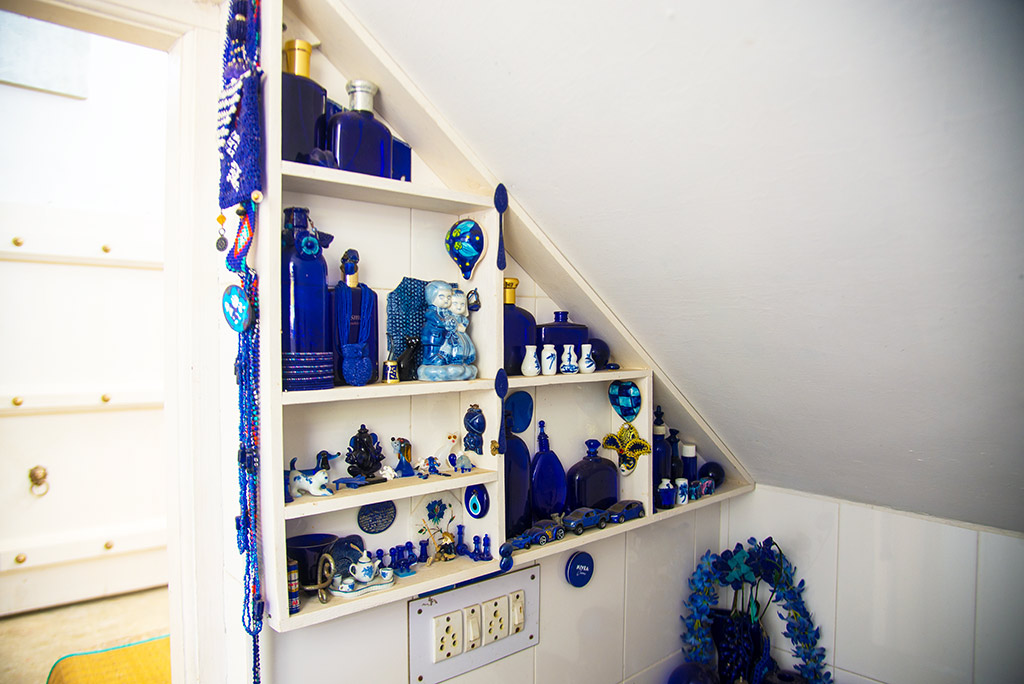 Back in the primary studio space, Anamika talks about her approach to work, between steaming cups of galangal tea. Anamika, whose father was a civil engineer, saw first-hand the transformation of a 2D image to a living, breathing structure. With her mother always working with her hands – be it to tailor, embroider or make crafts – Anamika's fascination with the process has trickled down to her work. Her trajectory as an artist has traced a path from explorations of geometry and colour, experimentation with restriction of colour, to working with processes in various ways. 'For me, it is the journey, the process that is the art. I like to call it ant-like, feeling my way through it, slowly. I don't like loud statements, and prefer soft movements,' says Anamika. In a mixed media work, also part of a recent series, Anamika uses intricate penmanship, in colours bright and subtle, on a fibrecast mannequin (well-endowed, I might add), layers of ink, again, bright and subtle, to stunning effect so that the body is replaced by an undulated canvas.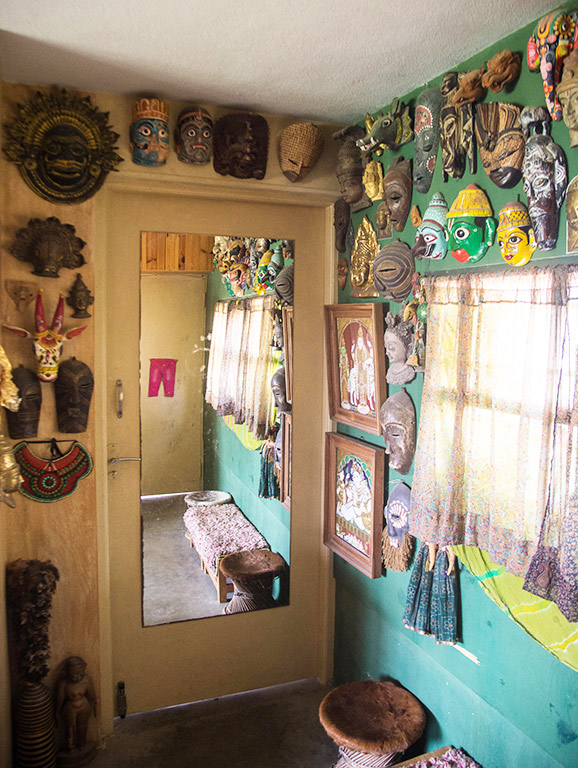 'Beauty is, in itself, an artificial construct, in some sense,' Anamika says. 'What is beauty? What is gender? Through our art, we want people to be able to shake these preconceived notions off their minds.' Notable then, that the idea of the self was one of Ramachandran's recurring themes in the early part of his career. His body was the subject of a piece titled, Me? photographed by Anamika. Parts of his body were photographed and reconstituted into boxes of visuals. What's striking about the piece is its seeming transcendence of the body, and its reduction into mere shapes and contours. 'The self, for me, was not about beauty or the gaze, but the art. The lines, the angles, the contours. In the end, all my body parts were reduced to angles,' he says.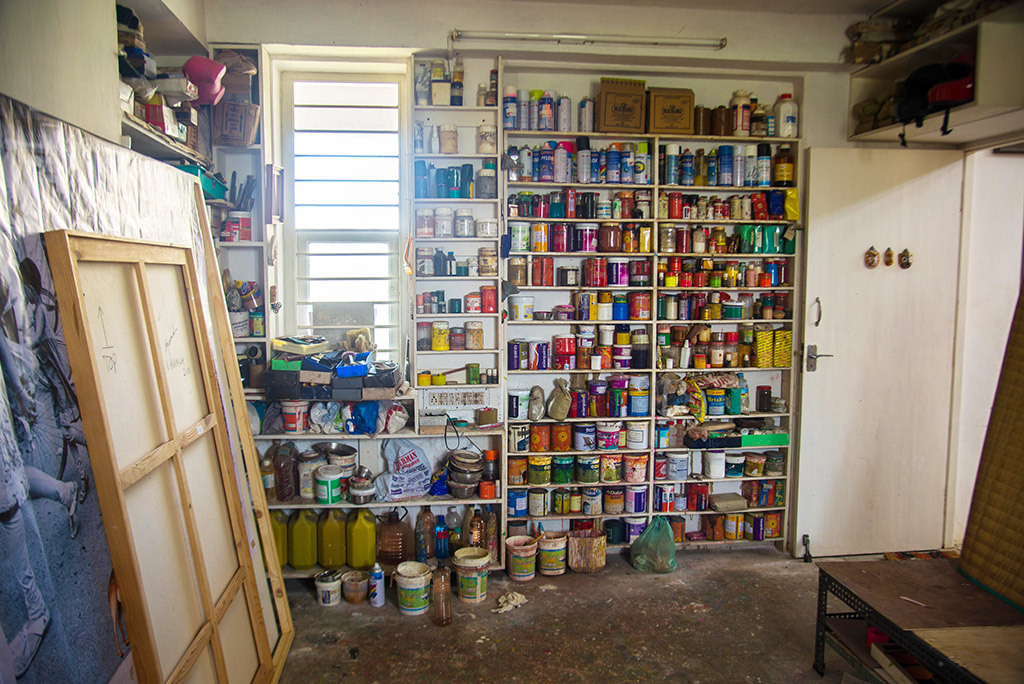 Ramachandran's work is reflective of his artistic sensibilities: an eagerness to explore questions that arise at the fault lines of culture, space and time. Born in a family of jewellers, his eidetic memory served him well when he had to shop for jewellery designs from other stores. Their travels, consequently, have imprinted so much in his memory, that even a little stimulus triggers multiple images. It's also why his work is expansive: much of his work combines the contemporariness of an Andy Warhol with the box assemblage techniques of a Joseph Cornell for multiple layered messages. He cites everyday objects as his inspiration and credits his mother's anjarai petti (compartmented box used to store different ingredients for tempering) for his fascination with box-art assemblage.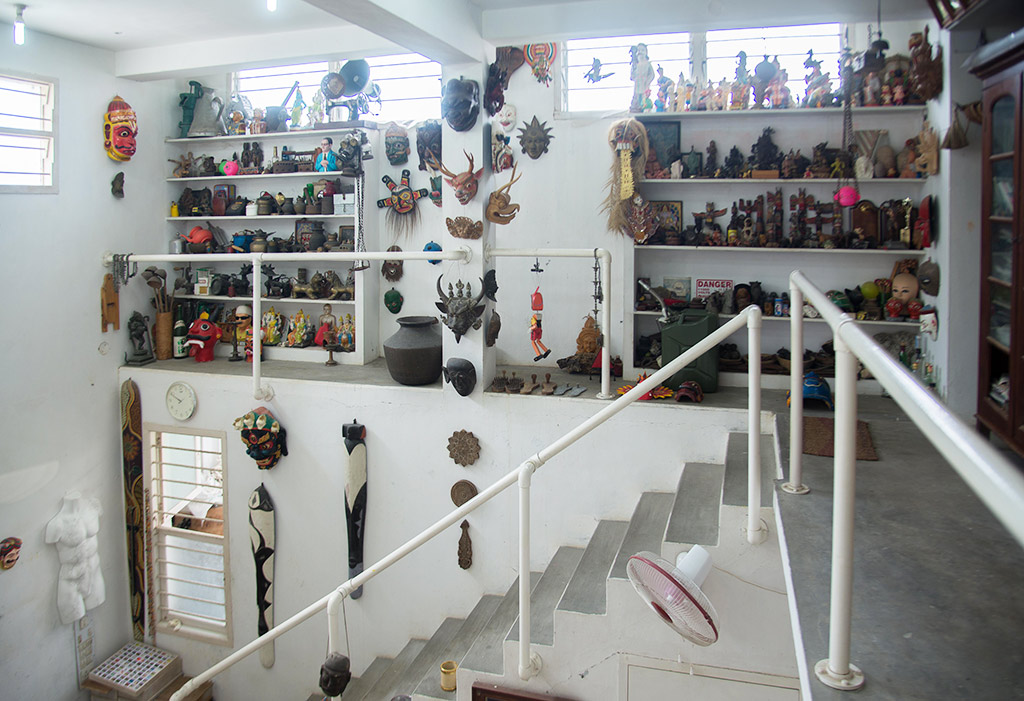 It is this everyday that their art takes from and resides in. Feted graduates from the Government College of Arts, Chennai, and recipients of the Charles Wallace India Trust Award, they have worked alongside each other for over 25 years, for a well-practised rhythm. Their ideas of beauty in art are as convergent as their art itself is divergent. 'A lot of our art is based on distilled experiences, and what's important for us is to always keep in focus the intrinsic value of art itself,' says Ramachandran.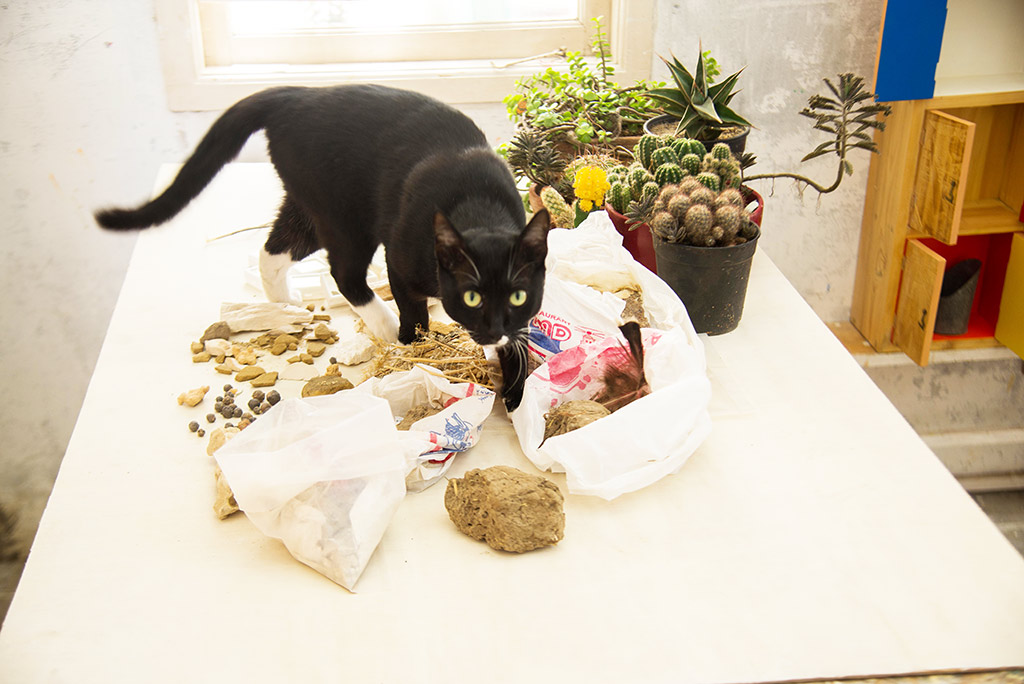 As I leave, I notice a square canvas, white with black irregular zebra stripes that they have hung above the door to their workshop. Pointing to it, Ramachandran asks, 'That right there serves as a constant reminder to us. You know how that was made?'
Mixed media, I think, as he continues, 'It's not ours. It's by the men who lay roads. We took a canvas and captured their pouring of the tar on to the road. That's what art is. In the everyday, everywhere.'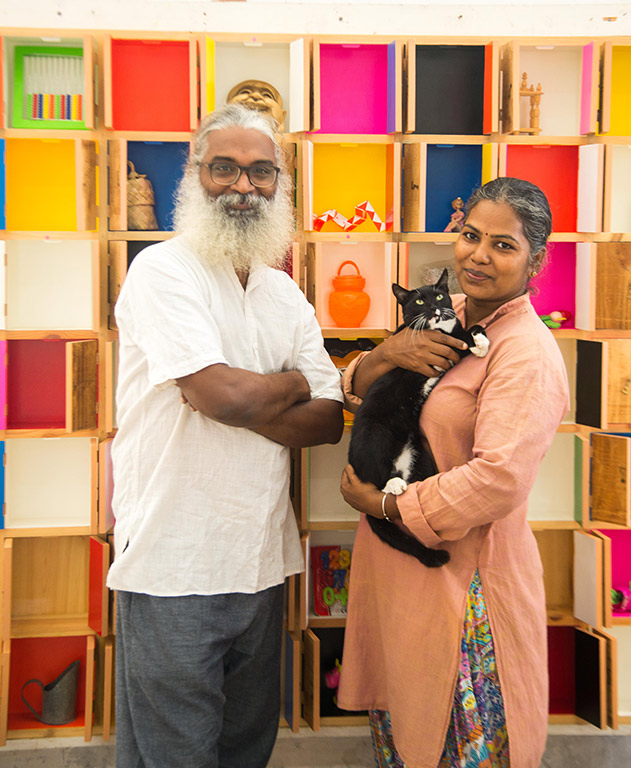 Share