Saying it with Letters
Words have always had the power to move nations, and, letters, the power to move hearts
Moksha Kumar
There is something about receiving a letter as opposed to the now-prevalent mechanical texts. Diaries, letters and postcards have always been a gift at a time of reflection (#livinginthetimesofcorona) and when one needs a little hope (#sameasbefore). In fact, many examples of letter-writing stand out as endeavours to help foster better communication with others, and ourselves. A TED talk by Lakshmi Pratury, entrepreneur and curator, on The Lost Art of Letter Writing, is a beautiful recollection of her father's letters to her after his death. He had made sure to leave a legacy of the many things he had observed about his daughter over the years (including gentle suggestions for improvement, of course), and a legacy of his handwriting, 'So, maybe, we all need to leave our children with a value legacy, and not a financial one. A value for things with a personal touch – an autographed book, a soul-searching letter,' she says.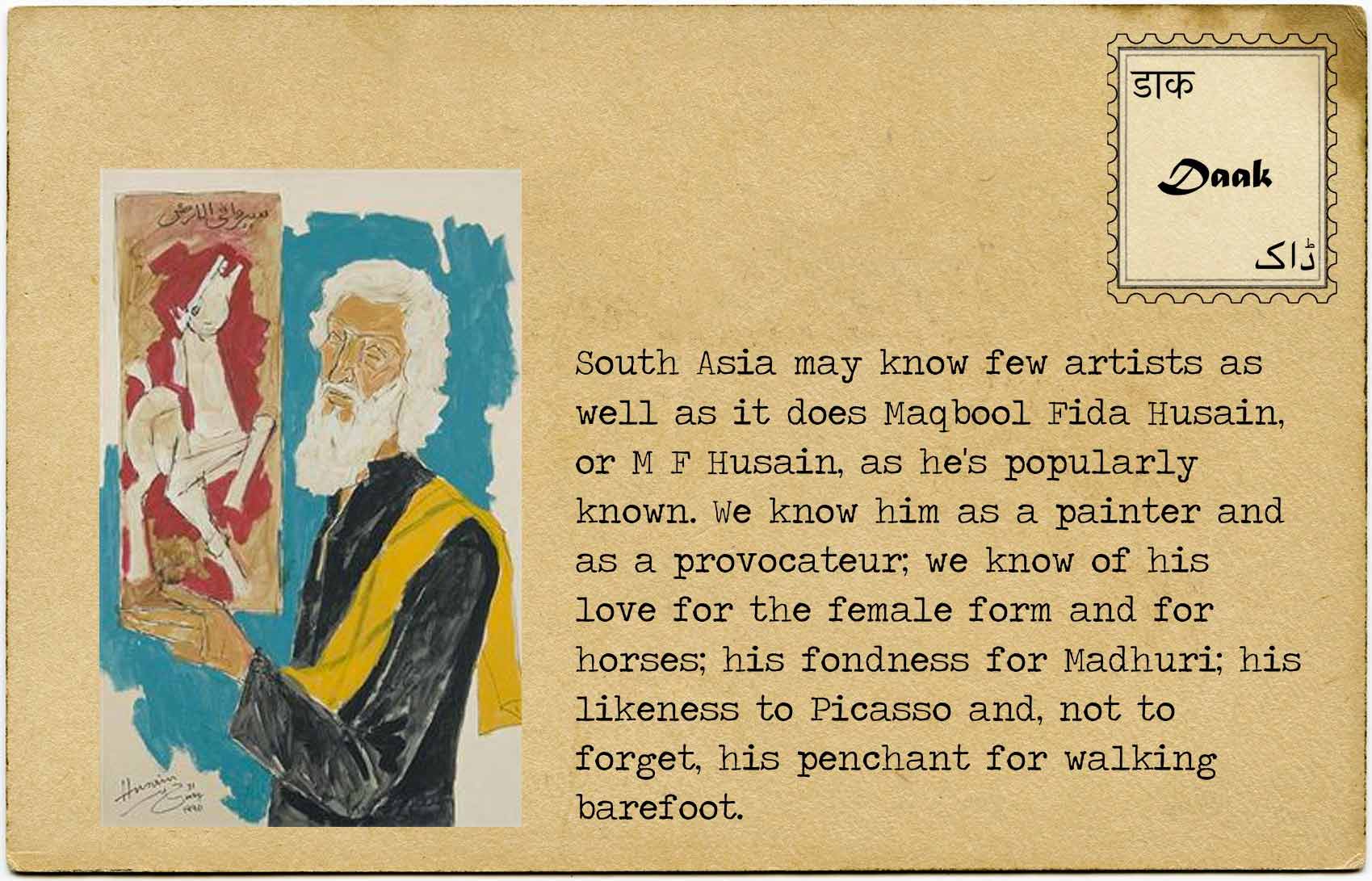 'Daak: Postcards from the Attic' is all about that personal touch. Set up by writer and anthropologist Onaiza Drabu, and educationist Prachi Jha, in 2017, 'Daak' is a quietly powerful initiative to bring to light the untold stories of art, poetry and writing. 'Through Daak, we are not only reviving the works of great artists, writers and thinkers from the past, but also facilitating a lively conversation about how their ideas have contributed to the creation of our cultural ethos and identity. This is our way of sending out letters to all the people who, like us, are looking for something interesting and meaningful to read,' they said. When reading about the incredible M. F. Husain on the postcard 'Painter, provocateur and exile: Who was M. F. Husain?' we see a glimpse of a man who was always more than his controversies. The quick but observant sketches, his love for painting horses, his passion for film and the 'muse' – we understand more about the intricacies of his persona and his many influences over time. This is just one example. Daak allows us access to the compact but explosive writings of many creative artistes, making the 'postcard' both literal and metaphorical.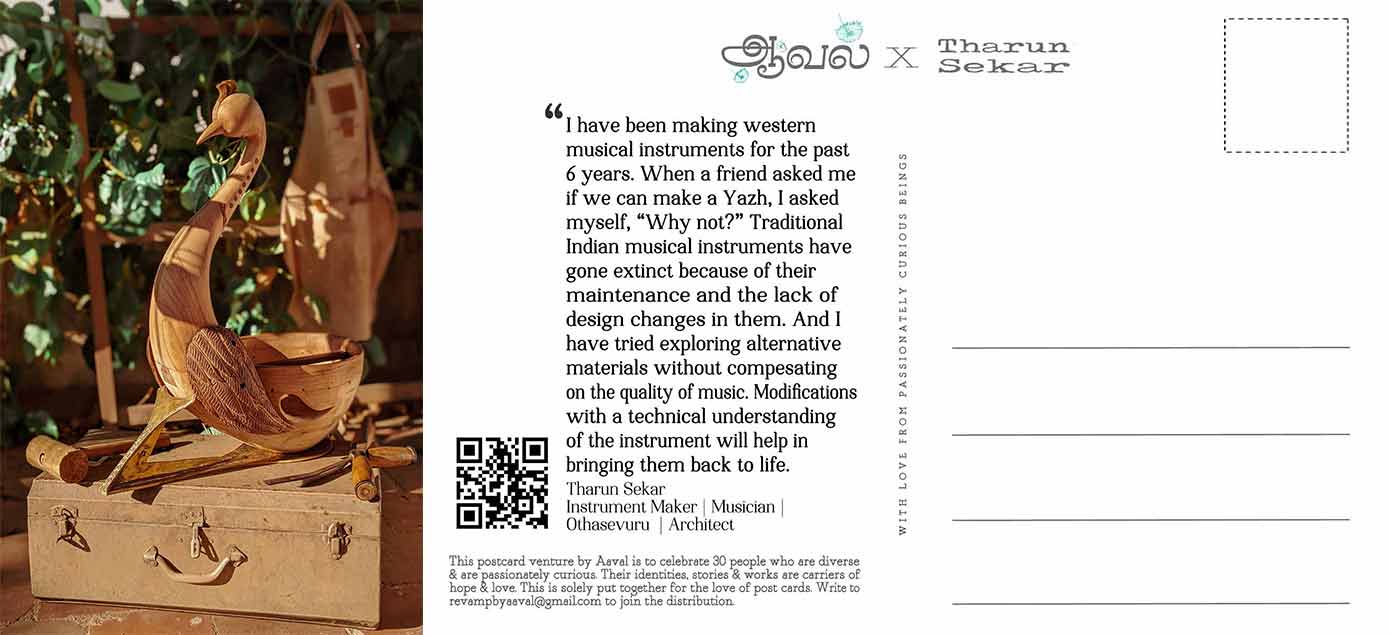 In a more contemporary take on postcards, Priyanka Ulaganathan through her initiative Aaval curates postcards received from a variety of sources. 'It was postcards through which thoughts and ideas were transferred initially. Indeed, a beautiful practice that we have lost due to our mechanical lifestyle. Aaval is therefore that voice, that platform for people who are trying hard to keep the practice alive. The postcards are their muse; that is the only hint I give them! And they came up with multiple messages. Through their art or the words they write on the postcards, we discover who they are and what their ideologies are,' she said.
For instance, architect, instrument-maker and musician Tharun Sekar's postcard features a beautiful and almost-extinct Tamil musical instrument called 'Yazh', lovingly handcrafted by him. Shaped like a swan and known to be the ancestor of the modern day Veena, the harp-like instrument was said to be used almost 2,000 years ago!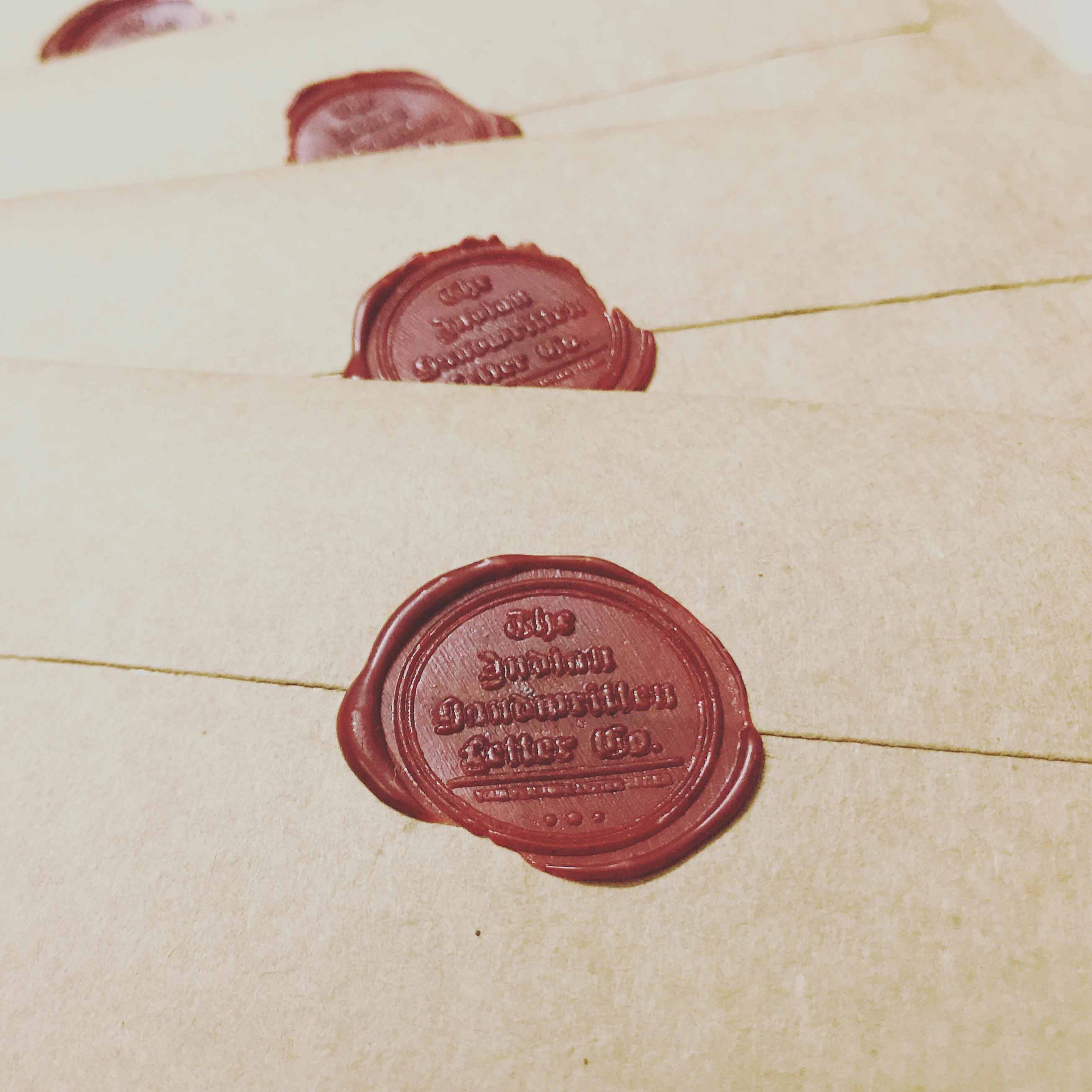 And then there is the lovely initiative by Anubhav & Jashwanth – The Indian Handwritten Letter Co. – set up in 2015 that seeks to revive an interest in letter-writing by crafting handwritten letters through their online request forms. They have shipped over a million letters in the past five years! There are different templates for different occasions; the paper used is yellowish in colour for that vintage feel, and brown envelopes to complete the warm touch of nostalgia. Anubhav Ankit, the co- founder, said, 'All the information people share with us are so private. We are extremely old-school and we like pen and paper, so we don't keep any information on our servers beyond three weeks.' Perfectly discreet, easily accessible and something that began over a simple cup of coffee, the company can write letters in 13 different languages. A brilliant way to say the simplest of things – as they put it – in the analogue way.
Share