Mirrored Realities
Emami Art, Kolkata, recently presented Bose Krishnamachari's solo show, 'The Mirror Sees Best in The Dark' who is back after a hiatus of nine years
Team AI
When the artist who spent his early days in Mumbai doing five-minute portraits for patrons of the upmarket restaurant, Mela; the artist who managed to get into the prestigious Sir JJ School of Arts, Mumbai, only to be expelled for voicing his criticism about the institution; and the artist who once famously hired a truckload of books at Rs. 5,000 a day to create a pyramid of it at Jehangir Art Gallery puts up a solo show after a hiatus of nine long years, we sit up and notice.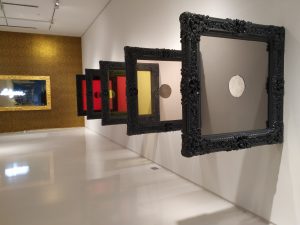 Bose Krishnamachari doesn't like to be 'categorised' and, quite naturally, wears many hats with ease – he's an artist, a designer, a curator, a fashion aficionado, a gallerist, and the co-founder of the Kochi Biennale Foundation. His art practice too comprises a range from drawing, painting and sculpture to design, installation and architecture.
In his recent exhibition titled The Mirror Sees Best in the Dark, he uses the mirror as a device that draws you into his world replete with its labyrinthine meanings. 'A mirror reflects you back to yourself. A mirror also lures you in; entraps you. It accumulates your obsessions. It symbolises obsession. Stay away from this symbol, the mirror!' he said.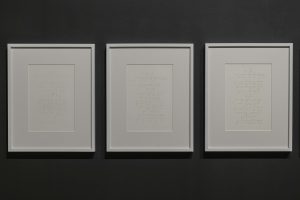 We are greeted by a palette of soft, neutral colours like pink and slate grey on some walls, only to suddenly encounter a heavily patterned gold and black wallpaper. As the artist puts it, this is 'a waltz between contradicting ideas and aesthetics'. Never giving you the luxury of predictability, his work leads you on compulsively. Likewise, the ornate panels of mirrors don't quite prepare you for the starkness of the large circles that appear at the centre. The game of contrasts keeps you guessing as you move on to his minimalistic Braille works devoid of frills and ornamentation. 'My works reflect my anxiety about the tensions in our contemporary society, and a self-obsessed autocracy that is looming. My language has been renewed, but it is not new,' he added.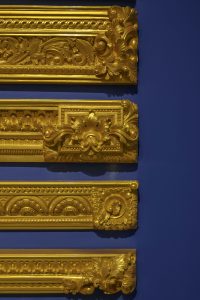 He examines relationships, politics, faith, wisdom and communities, the most common obsessions of contemporary society. One of his works shows a large frame with the word 'Religion' boldly emblazoned on it – indeed, the mirror of our times!
All Images Courtesy of the Artists and the Kolkata Centre for Creativity.
Share