Where the Shadows Speak
The founder of Sarmaya Arts Foundation takes us through the bylanes of his journey with Sindhe Chidambara Rao, the custodian of the ancient art form of shadow puppetry – Tholu Bommalaata
Paul Abraham
In the summer of 2019 I travelled to Dharmavaram in Andhra Pradesh to visit Sindhe Chidambara Rao. Dharmavaram is steeped in history, with ancient temples and weaving looms. Greeting us at the end of our journey in front of a house with a yellow door was Chidambara Rao. I first met Chidambara in 2013 at a Paramparik Karigar exhibition held in Mumbai where I acquired a few of his puppets. Over the years, our relationship grew from that of a collector and artist to a deep and abiding friendship.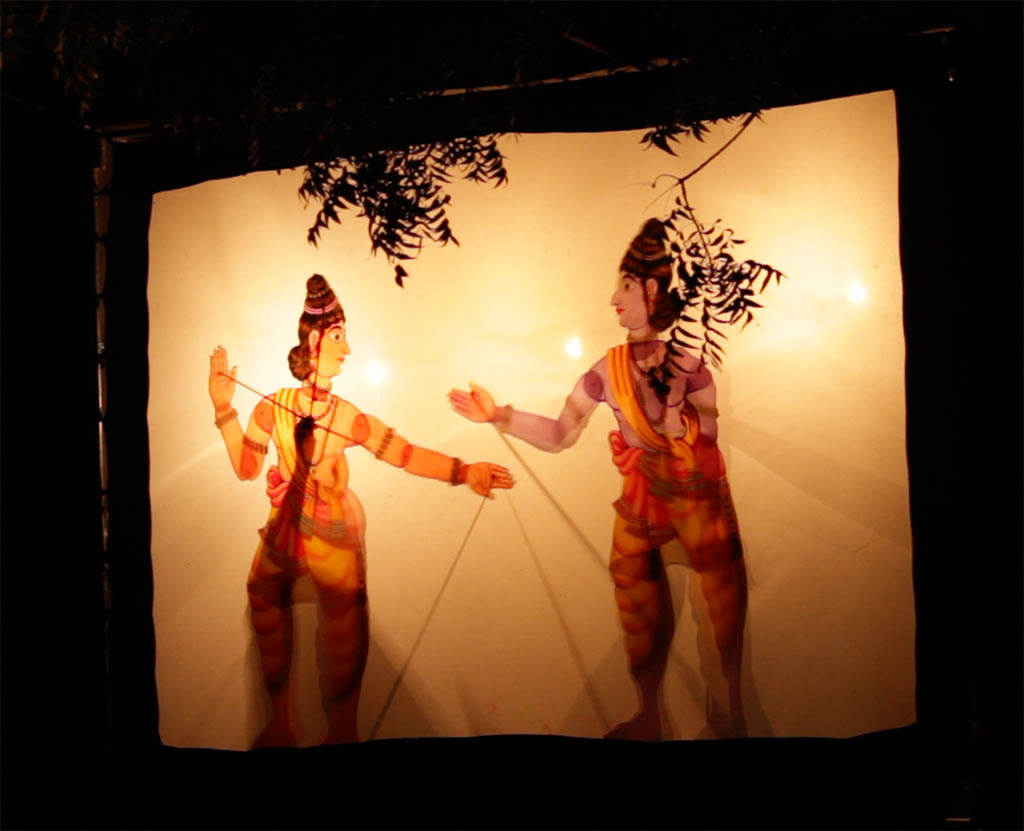 It's dusk and in front of a 7 × 8 foot white screen sit residents of the village waiting patiently. The screen is back lit with warm bulbs. The colourful life size puppets move across the screen with incredible energy and emotion. You hear cymbals, the rustling of ghungroos and the clearing of throats. One is transfixed witnessing familiar scenes from the Ranganatha Ramayana brought alive in the laughter of Ravana and the agility of Hanuman. A master puppeteer and performer, Chidambara Rao continues an ancient tradition of shadow puppetry called Tholu Bommalaata. 'Tholu' means 'leather', 'bommalu' means 'puppets' and 'atta' is derived from 'attam', 'dance'. Together it is 'the dance of leather puppets'. This beautiful turn of phrase conjures images of movement and magic and is an art form performed by certain communities, typical of India's oral cultures, where the stories and practices are taught, not written.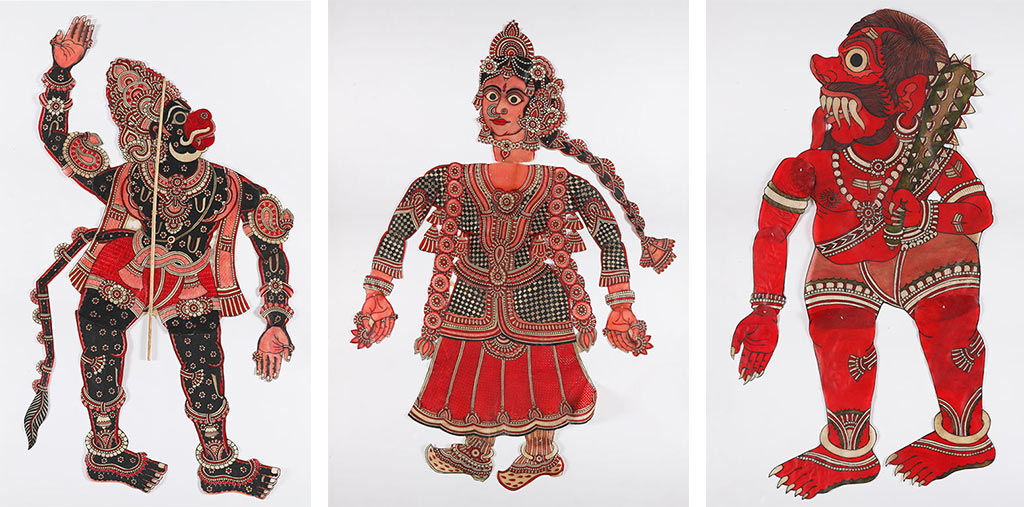 Rooted in the community, Tholu Bommalaata is usually performed by a family. Chidambara's eight-member troupe, 'Chaya Natak Brundam' includes him, his wife, Venkatamma, his two children, his sister, brother-in-law and relatives. Chidambara's love for Tholu Bommalaata began as a young child watching his father and family perform. 'I was six years old when I began drawing outlines of the various puppets, and by eight I was really keen on being a part of a Tholu Bommalaata performance. Since I had such love and desire to handle the puppets, my father would train me. A puppet used to weigh 3 to 4 kilos those days and it was very hard, but that's how I learnt the art form,' he explains.
Traditionally, Tholu Bommalaata troupes would travel from village to village, erecting makeshift stages to perform for audiences through the night. In exchange, the troupes were given rations and donations by the village. This nomadic artistic existence possibly ties into the migratory history of the community. Chidambara's ancestors moved from Maharashtra to Andhra Pradesh and Karnataka and took the art form with them. Chidambara's great grandfather Nayanappa Rao, the first puppeteer in the family, migrated from Solapur to Kolar in Karnataka. There he met many leather puppeteers, forged friendships and evolved his art. Nayanappa Rao's son, Chinaveerappa Rao moved to Dharmavaram and continued the art form. You notice the fragments of memory and migration in the language the Tholu performance is sung in, a dialect combining Marathi and Telugu.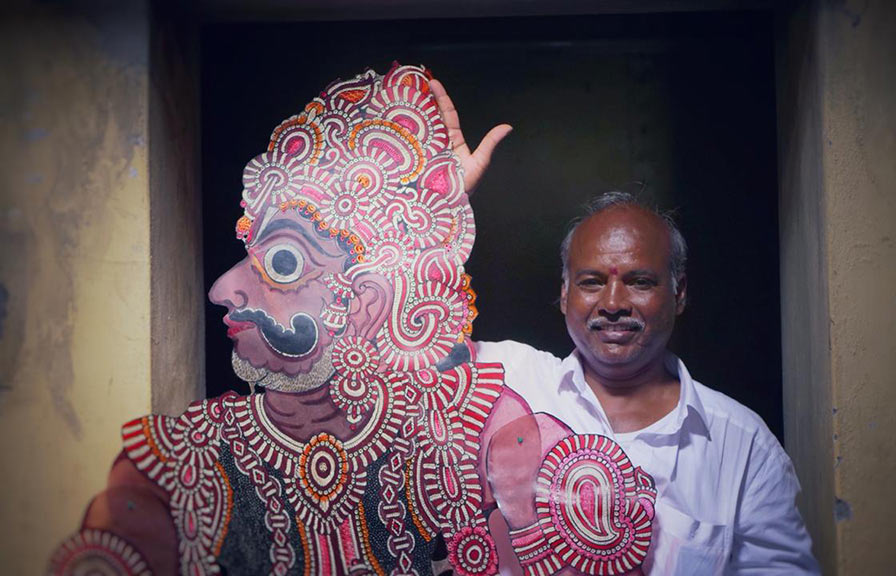 The family creates the puppets from leather, beaten and processed to achieve a translucent quality. They are then handcrafted and painted. Inspired by the paintings and forms that adorn temple walls, Chidambara draws and creates the outlines for the puppets and his wife, Venkatamma, painstakingly adds in decorative jewellery by punching miniature holes in the leather and the puppets in signature, bright colours.
The mastery of a Tholu Bommalaata performance is in its storytelling, its weaving of the familiar scenes from the Ramayana with other interesting characters like the jesters, who are tasked with introducing humour laced with social commentary. Within a single performance, you witness both our loftiest ideals and our basest qualities. Chidambara is a master craftsman, artist and performer with an immense knowledge of his art. As a custodian of an ancient art form, he goes beyond just the retelling of an epic, and this is what I am drawn to –the stories behind the puppets and the sheer artistry and skill involved in crafting a character and bringing it to life.
Over the years, we have added many puppets made by Chidambara and Venkatamma to the Sarmaya collection and worked on building awareness and engagement. A community art form that is dependent on the skillset of a troupe can survive only if there are avenues to perform, opportunities to engage with audiences and future generations who are taught about its value.
At the end of it all, though, what remains with me is this – that, incredibly, it is still possible to witness this deep-rooted artistic tradition, this magical experience that is the Tholu Bommalaata performance.
_______________________________________________________________________________________________________
Sarmaya Arts Foundation is a Mumbai-based not-for-profit curated repository of art, artefacts and living traditions from the Indian subcontinent. Founded in 2015, Sarmaya aims to make India's art, heritage and culture more accessible, engaging and educational. To know more, please visit www.sarmaya.in 
Share