Tracing Back: K Ramanujam's Language of Lines
Rediscovering a city through K Ramanujam's vivid imagery and motifs that brings a distinct part of Madras alive through personal stories and possible influences
Abhirami Rao
K. Ramanujam's artwork presents a curious case of religious and divine exploration. In strangely beautiful dreams of line and colour, his highly collected work reflects the Hindu Vaishnavite ideas of spiritual ascent as many of his compositions correspond to literary texts (particularly to those written by Nammalwar) on the same subject. Historian Dr. Chitra Madhavan and Ashvin Rajagopal, co-founder of the gallery Ashivita's that also houses Ramanujam's collection, ventured to decipher his work through repeated imagery, distinctive elements and his movements within what was then Madras.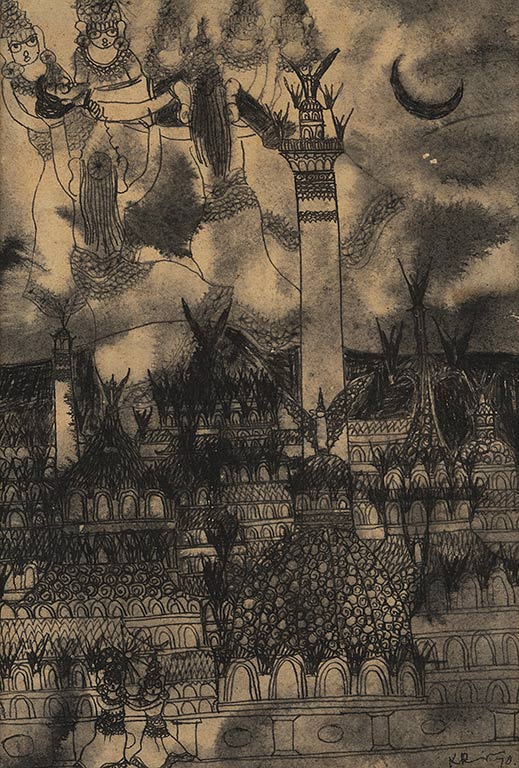 Born into an orthodox Iyengar family in Tiruvallikeni (now Triplicane), Ramanujam's artistry was a medium of indulging in his mind space. With mental health conditions and physical disabilities, his mother noticed him often scribbling cryptic designs and took him to the Government College of Fine Arts. 'We've followed his movements and tried to extrapolate the sculptures, stories and architecture he would have been in contact with,' explains Dr. Chithra, adding, 'He lived close to the Parathasarathy Swami Temple in Triplicane, an area where you have numerous temples as well as many mosques. In this picture, there are a cluster of houses with a tall minaret (tower) in the background. This coexistence is what he's lived through and seen. It clearly finds reproduction in his works.'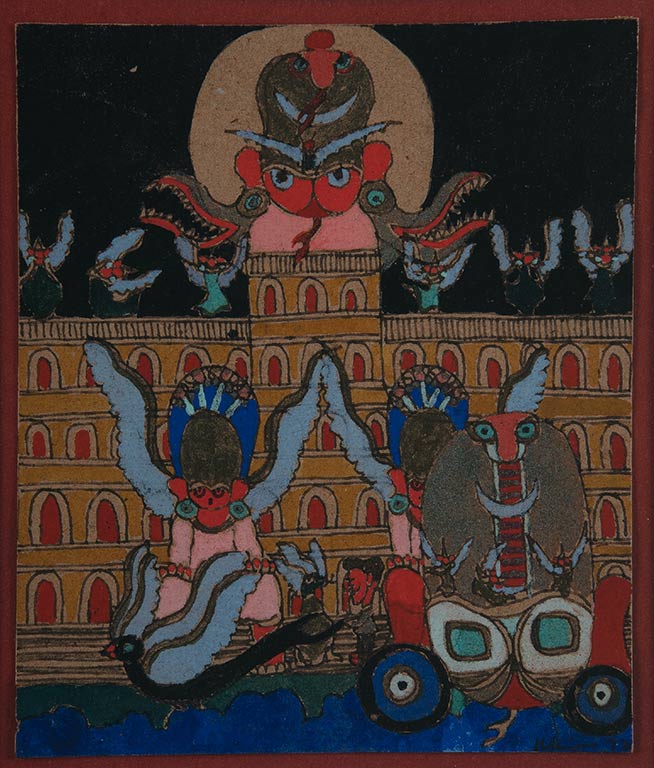 Dr. Chithra presumes that a visit to Mamallapuram and its wonderful array of sculpted and architectural wonders would have also influenced Ramanujam. She draws attention to the Pallava brilliance of constructing elements that showcase the time of the events depicted, the use of trishulam at the top of the Ganesha Ratha and the subtle turtle-like figures built below the kalayana mantapams (platform upon which the marriage ceremony is conducted). Bearing the address of one Mr. S. K. Swami, although presently no familial ties or acquaintances have been found there, it is evidence that he is related to this region.
There is also another interesting relation between kalayana mantapams and Ramanujam. There are several pictures where he has sketched a love interest or one where he is about to get married. 'We know that he did not get married. Perhaps, it was that frustration that lead him to do this,' says Ashvin.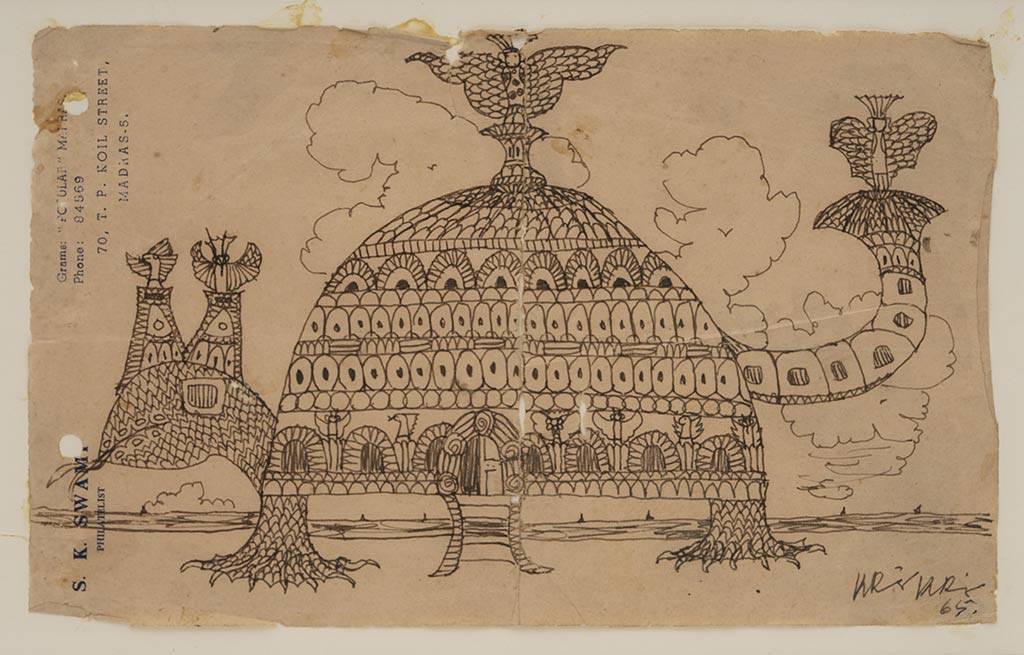 Ramanujam often depicted himself in his work as a man clad in a white shirt, black pants and sometimes donning a hat, 'It appears like he wants to be part of the fantastical narrative he weaves,' says Ashvin. There are celestial figures, animals morphed and adorned with wings, clear depiction of the sun and the moon, motifs of clocks and intricately designed patterns.
K. Ramanujam's art is reflective of his solitude and inner state of mind. It is an open letter of possibilities of an afterlife he almost melancholically lived through.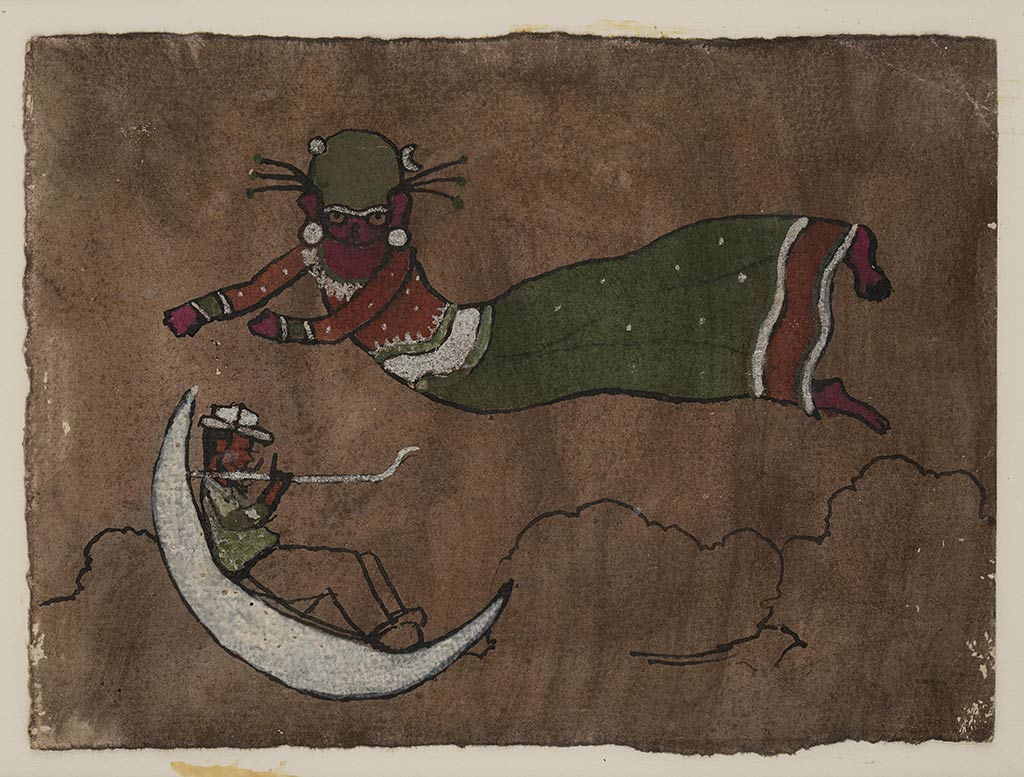 All Images Courtesy of Ashvita's
Share