The Thin Green Line
Rohan Chakravarty's cartoons and caricatures on the wildlife not only make you laugh out loud but also create a long-lasting impact on issues of conservation
Saritha Rao Rayachoti
On his first serious safari, Rohan Chakravarty sighted a tigress at a waterhole in Nagzira Wildlife Sanctuary, Maharashtra. This experience made such an impact on him that he gave up a degree in dentistry and later, a day-job as an animation designer, to follow his bliss – drawing cartoons related to wildlife conservation and the environment.
Rohan's body of work – cartoons, caricatures and illustrations – stand out for a certain bent of mind that he brings to his work. There is an allusion to human social behaviour and the balance between art, information and humour is nimble.
Take, for instance, the quarrel of vigilante house sparrows rigging up TNT to take down the primary cause of their dwindling numbers – mobile towers that contribute to microwave pollution. Or the pack of coyotes frustrated that even after reading up to the 300th page of Harper Lee's book; they still don't have a clue about how to kill a mockingbird.

My introduction to Rohan's work was a set of caricatures describing how birdwatchers might assign birding terminology – like black-naped, crested, white-rumped, short-toed and so on – to dogs. It was cheeky, insightful, and it put the spotlight on this peculiar trait of birdwatchers. There's also the cartoon about the herpetologist who is excited to meet a mermaid, and then goes on to count her dorsal fins.
In my mind, this is Rohan's zone, his habitat, his lair. He thrives in this thin green line where he retains an outsider's amused perspective of the cartoon-worthy quirks of the community of wildlife conservation professionals such as herpetologists, taxonomists, wildlife photographers and field biologists, all the while keeping his gaze firmly set on the issues they contend with.
The process of creating a cartoon, as Rohan confesses, is annoyingly random. 'It may take me anything from a minute to a year to come up with an idea for a comic. I read up as much as I can to get facts right, before I set about writing on or drawing a particular animal. For my caricatures it is important to know anatomic details accurately before I contort them to suit my whimsical perceptions. I also try to recollect sightings or watch videos if I haven't seen the animal I am drawing.'

Rohan's work features a gamut of species from common ones such as the large-billed crow to recently discovered ones like the Olinguito, endangered ones like the Sunda Pangolin to misunderstood ones like the bat. He peppers his cartoons with interesting pieces of trivia such as the connection between the Praying Mantis and Kung Fu, the fact that male chaffinches don't migrate in winter even though the females do and the myth about the Egyptian Plover's symbiotic relationship with the Nile Crocodile.
Even a cursory glance at Rohan's vast archive of cartoons and caricatures indicates how much he loves to feature birds. Sometimes he uses them as spokespersons for the environment, as in the case of crows changing the sign of a garbage dump to read Crow Sanctuary. Sometimes, they are used for awareness, as in the case of Sarju and Sajni, the Sarus Cranes illustrated for a poster for the Wildlife Trust of India. Sometimes, Rohan attributes human traits to birds to hilarious effect.  Like the bespectacled songbird advising a fellow feathered friend to move to the Mac as a hundred million birds are estimated to be killed annually by collisions with windows.

'I think birds exude both mischief and character like no other animal,' says Rohan, 'Being an avid bird-watcher myself, I find them the most perfect subjects for cartoons. When it comes to my most memorable visits into the wild, it is a close contest between Kanha Tiger Reserve, Madhya Pradesh and Royal Manas National Park, Bhutan. The latter was where I saw Great Hornbills for the first time. The otherworldly, mystical presence of the bird left a mark as no other animal had done. I think it was my most magical moment in the wild.'
Hailing from Nagpur, the tiger capital of the world, and given the destiny-altering sighting of the tigress, it is only natural that a lot of Rohan's work features tigers. One of his comic strips even details how tigers would network on social media! 'There is a definite charm and aura about the animal that influences you tremendously. I think the magnificent, majestic cat truly deserves the star status it has today and what makes a star even more beloved is the virtue of being accessible to fans. Now, clouded leopards and golden cats can't simply sit crouched in their hideouts in dense evergreen forests, show up once in a few months in camera traps and then complain about the tiger hogging all the limelight!'
A caricatured map of Pakke Tiger Reserve funded by the Forest Department of Arunachal Pradesh is a project that is close to Rohan's heart for the sheer detailing that went into creating collaterals that the forest department and NGOs could use for awareness and outreach. 'The credit for the Pakke map goes to my friend Nandini Velho, who is doing her PhD on the impact of logging in the region,' he recounts, 'Since it was my most detailed assignment then, several gallons of coffee went down and several nights of sleep were lost in space, but the blast I had laying the map out was unparalleled. It all made sense when I visited Pakke Tiger Reserve during the Hornbill Festival this January 2015 and watched kids from the village poring over a huge print of the map discussing every little detail – which river their house was closest to, which animal was their favourite, which headgear their uncles wore and which waistband their mums sported! I think I shed a few kilos melting from within, that evening!'

There is a certain quality to Rohan's cartoons that instantly pulls you in and creates a space free of cumbersome truisms for facts to reinvent themselves through the unpredictable world of humour. So it comes as a complete surprise to us when Rohan says that he is 'entirely self-trained', attributing his success as an artist to the pen tablet. 'It was only after the pen tablet came into my life that I started believing that I could produce artwork of a professionally acceptable quality. At the same time, I greatly envy traditional media users and their independence from technology.'
Rohan counts among his inspirations the works of Gary Larson (The Far Side), Mark Parisi (Off the Mark) and Patrick McDonnell (Mutts), and regards Genndy Tartakovsky, the creator of Dexter's Laboratory, as his imaginary mentor. But he doesn't think a proper field for cartooning wildlife really exists. "Among the handful of people I know of, the late Jay Norwood 'Ding' Darling was the first to portray issues concerning wildlife conservation in his cartoons. Then came illustrators like Charley Harper, who was a master at minimalism. His quirky art works have had a profound influence on my wildlife caricature series. Three of my notable contemporaries are Rosemary Mosco who draws the wonderful series called 'Bird and Moon Comics', Seppo Leinonen from Finland, and Brendan Wenzel who draws amazing wildlife caricatures and is also a huge source of inspiration.'

Although Rohan's preferred medium is print, he finds that there are not many avenues available to cartoonists these days, more so if one is not a political cartoonist. 'Syndicates believe in playing safe and don't think twice before selling obsolete, repetitive comic strips about pet cats and babies over and over again to newspapers, but shy away from even considering a novel effort. I have still been lucky to have had a fortnightly column in a leading newspaper, and to have been associated with quite a few publications,' he says.
This, naturally, begs the question about social media. 'I cannot stress enough on the importance of social media in letting the world know that your art exists, and also to get your message across,' he exclaims. 'A recent source of inspiration I stumbled upon, Stephen Collins – cartoonist for The Guardian – jokingly writes in the acknowledgements of his book, "Thanks to everyone on social media who has validated my existence with a 'like' or a 'share'!" I think the same applies to me too.'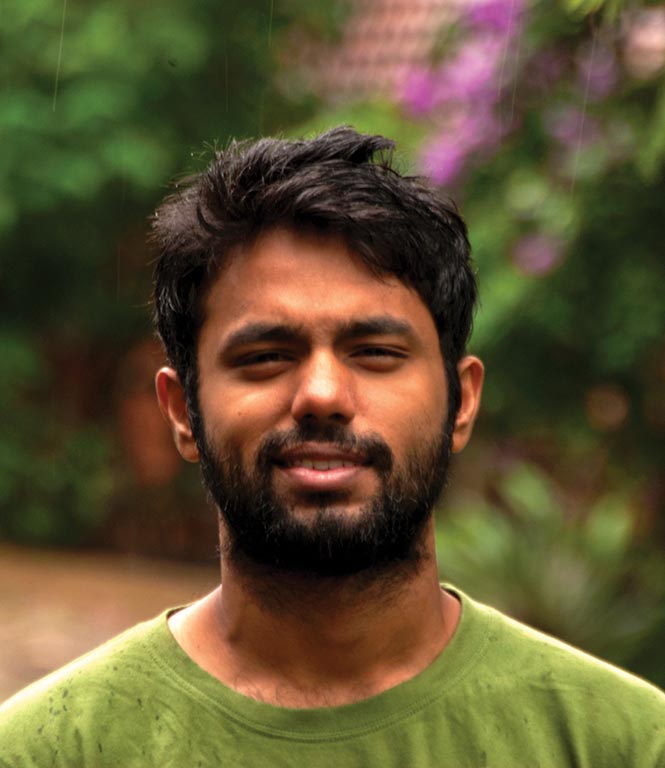 _____________________________________________________________________________________________________________
All Images Courtesy of the Artist
Share