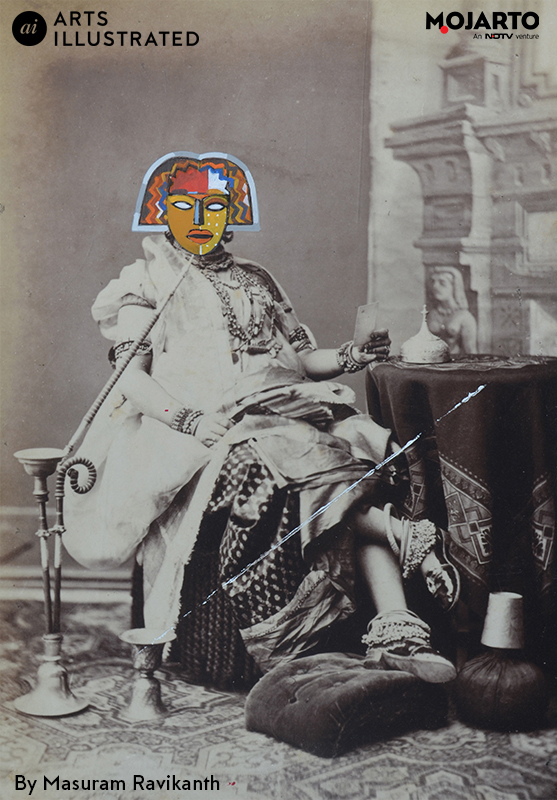 The Capture
By Jyothi Vinod
Arts Illustrated's Poetry Contest, Second Runner-up
A fresh flower lies
mute at the Lord's feet.
On the dung heap tomorrow,
trampled withering beauties.
Fresh flowers are always in demand.
Forty-two concubines:
desolate sisterhood of anonymity.
A Lord's hundred offspring sired
on nights of passion,
nameless, faceless like their mothers.
Smothered in brocades, silks,
cold metal and precious stones.
From vaults, loots, and rapes in far off lands.
Slowly, surely, we were snuffed out,
anchored by glittering handcuffs.
A nauseating life of leisure
Oil baths and perfumes
Painted lips and fingernails
Kohled empty eyes
New songs, steps and tricks to please the Lord.
Pacing marbled halls
in the perpetual daylight of chandeliers
precious days of our life turning dust
Illusory queens,
poor, powerless, pretentious.
Drink smoke 'privileged' women,
grow light from within.
Desires, intellect reduced to embers
soar out on wings of delusion.
A belief in rebirth your only hope.
Glorious outdoors for subjects.
Hungry, timid eyes watering our fields.
Yet, objects of envy
from behind fine muslin
when in my palanquin.
I'll change places,
even for fetters of iron.
Hungry babies, empty larders
Debts droughts deaths
Cold draughts and frightening tomorrows.
After a blinding flash of light, he says,
you'll remain on a square of paper for posterity.
Unrecognisable to anyone but my child?
No one will fix to it a name, a face.
After all, I was just a body.

About Jyothi Vinod
Jyothi's short stories have won the Katha Short Fiction Prize in 2015 (Second place) and in 2016 (Third Place). She was First Runner-up in the DNA-Out of Print Fiction Contest 2017. Her short stories and articles have appeared in the Deccan Herald, The Hindu, literary magazines: Reading Hour, Open Road Review, OutofPrint, India Currents, DWL- Papercuts, The Indian Quarterly (Jan-Mar 2019), Himal Southasian, and in anthologies (The Best Asian Short Stories 2017, The Other 2018, WE: Our Space 2018).